Professional House Painting in Melbourne with Zero Hassle on Your Part
We'll take the brush off your hands and deliver a spotless coat of paint to anything around your house
Interior painting has always been a messy chore. We offer to handle that so you can have peace of mind while the expert house painters in Melbourne refresh your home. We can also take care of your exterior painting, saving you the trouble of scaling ladders and lugging buckets of paint around. The value of our painting services are in taking care of the details:
We cover your belongings in specialised protective sheets to protect it from paint drips.
We use professional equipment and premium painting products for optimal results.
We will tailor the execution of the project exactly to your budget, needs and taste.
The painters are insured and can be scheduled every day of the week, even bank holidays.
Breathe new life into your property with our comprehensive painting service in Melbourne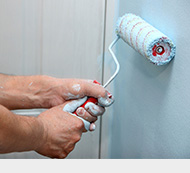 Why should I hire professionals to paint my property?
Quality aside, the task of painting on your own can be quite exhausting and even dangerous. Instead of wasting time and taking unnecessary risks, hand over the job to our professional Melbourne painters and let them revive your place like never before. The team will bring brushes, ladders, and paint rollers. They will also fix up any wall surface defects before applying the coat of paint, so the surface looks immaculate when done. Our trained technicians come equipped as well - masking tape, paper sand, drop sheets, brushes and paint rollers - we got them all!
What to expect from your painting service?
Whether you need your walls and ceilings painted, or you have hired our help to refresh the woodwork at your home, you can expect:
adequate protection of the surrounding areas;
professional preparation of the designated surfaces;
thorough and precise execution of the service to a perfect finish.
The professional painters will inspect the walls and ceilings to assure if there is asbestos in them, so they can know whether they can sand or patch them. You can also rest assured that the painters will tidy up at the end of the job.
What type of paint finish will you use for the service?
This depends on the functions that your room is currently serving. For instance, bathroom ceilings need a special type of paint, painting your children's room in a matte finish is impractical as it is very hard to keep it immaculate. In your kitchen, on the other hand, the house painting experts will advise you to use a semi-gloss paint finish as it is resistant to water, soap, and other substances that frequently spill during cooking and cleaning.
How about the cost?
Depending on the scope of the workload and the size of the painting project, the pricing may be based on our competitive hourly rates (for small jobs) or it will be formulated in a transparent manner for you after a preliminary viewing. Our quotations have no obligations to the client, so you are free to compare different offers at your own pace. All aspects of the painting job (the cost of the materials, the type of preparation work that is required, etc.) will be taken into consideration in the price estimate and will be explained to you in detail.
See what our clients have to say