---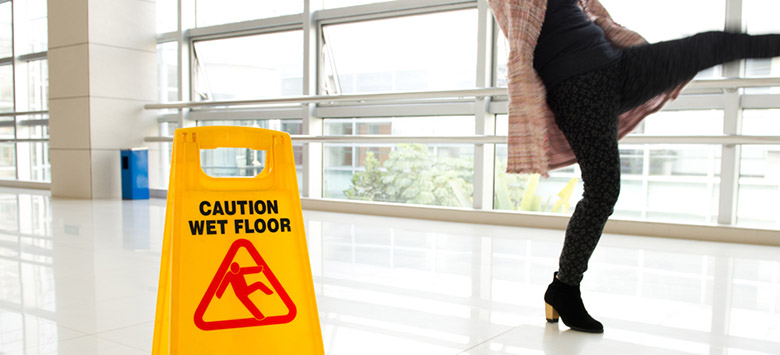 Slips, trips and falls are the most common accident in any households. They can cause minor injuries or critical traumas, such as broken bones and head injuries. Most of the victims are small children and elderly people. Statistic by Occupational Health and Safety organization shows that slips, trips and falls are causing more than 8 million emergency room visits and more than 21,000 deaths each year worldwide. Protecting your loved ones from tripping hazards must be a priority in your home.
---
Slip, Trip and Fall Prevention
---
Slip Testing the Floor Surface
To find out if the floors in your home represent a slip risk you need to test it. Test the floor surface in wet and dry condition, before and after cleaning, with and without shoes – because you never know when you will slip. You can do it on your own or turn to floor safety specialists.
There is no clear method for slip testing. The English tribometer is an instrument for floor slip testing and it's used by most of the floor safety experts. The technology behind it is simple. The tribometer consists a bouncing ball which is stricken at an angle against the floor surface with a simple push of a button. If the ball does not slip, the angle is being adjusted and the procedure is repeated until the ball slip from the surface. When this happens, you're ready to read the results of the test. However, they can be a variation in the testing results, because of the small size of the area which is tested.
Although the floor surface may be slip resistant, there are still certain factors that must be taken into account to ensure no accident will happen.
Anti-Slip Coating
An anti-slip coating is a simple and effective way to avoid the risk of trips and falls in your home. The heavy-duty textured paint is specially formulated to decrease the risk of slips. It can be used on surfaces like tiles, brick, concrete, fibreglass, sandstone and metal. The variety of paint comes in different colours to compliment the interior design of your house. The application of the anti-slip painting is as easy as regular painting.
---
Slip, Trip and Fall Safety Tips for Your Home
---
Clean Spills
Clean the spills as soon as they happen to prevent insertion in the floor surface. Have in mind, that some floorings are more slippery after cleaning, so make sure to dry the surface with a cloth or a mop before walking on the surface.
Dry Wet Floors
When it's raining outside, the chances of having a wet floor are higher. This can easily cause accidents if you don't clean the floor and forget about the rainwater on it. Be sure to clean and dry out wet floors as soon as you notice them. You may remember to be careful, but a family member y can easily injure themselves.
Secure the Bathroom
The bathroom is one of the most dangerous places when we talk about slip accidents. Try to avoid them by placing an anti-slip mat in the shower. If there are elderly people or family members with health problems in the house, install rails in the shower for easily exiting the bathroom. Do not leave kids unattended in the bathroom, even for a couple of minutes.
Clear the Clutter
If you have small kids or pets, probably some toys or parts of them are laying around the house. Clear the walkways from everything you can trip on, such as electric wires, cables, or pet bowls. Put them in a place where people are not passing often. And don't forget to pick those Lego parts from the ground.
Lighting
Install light switches near the entrances of the rooms and make them easy to reach. If you have stairs, put one on the bottom and on the top of them. Make sure to use a bright light on walkways and turn it on everytime you're entering a room.
---
Slip, Trip and Fall Safety Tips for Yur Office
---
Use Signs
Use signs to designate wet surfaces and request attention to possibly hazardous areas. Place them in a visible place surrounding the dangerous area. Make sure everyone is using them when cleaning a floor or when noticing a potential threat.
Improve Safety on Stairs
Make sure the stair handrails are safely secure on both sides of the stairs. Mark the first and the last step with tape. Avoid using rugs and carpets on the stairs, especially if they have colourful patterns. You don't want to feel roofied, not on the stairs. As prettier as they may look, they may cause serious accidents on the stairs.
Instruct Your Employees
If you're an employer, instruct your employees to follow safety regulations so they can protect themselves and their colleagues. If you're an employee, follow those regulations to make sure you're protecting yourself and your associates.
Hide Cords
Computer, internet and phone cords are often creating nets in the offices and can be dangerous for customers and employees. You can hide the wires and cords in the walls, under the carpets or secure them under the desks. Install power outlets near computers in an accessible location to avoid stretching cables over the walkways.
Check Flooring Conditions
Inspect the floors often and make sure there are no holes, gaps and cracks which can cause accidents. Repair the flooring if needed and make sure to put safety signs around areas that need to be fixed.
---
When Injuries Happen in Your Home
---
If you or a visitor of yours gets harm slipping on a wet floor, if they have to go to the hospital you'll feel awful about it. If someone falls in your home because of loss of balance you're not responsible. What you probably don't know is that if someone gets injured because of incomplete construction or wet floor, you'll be held responsible. That person may file a personal injury claim if they are seriously hurt.
Slip and trip lawsuits are meant to educate people to pay more attention to the condition of their homes and prevent hazardous situations due to carelessness. Clean all wet floors, secure unfinished construction and warn your visitors of any potential threats in your home.
Most slips, trips and falls can be associated with clumsiness or carelessness and people are often ashamed to admit they're injured, afraid that people will blame them. If you take security measures and obtain home insurance for your home, you can protect yourself and your loved ones and prevent the financial waste of a slip and fall prosecution.
---