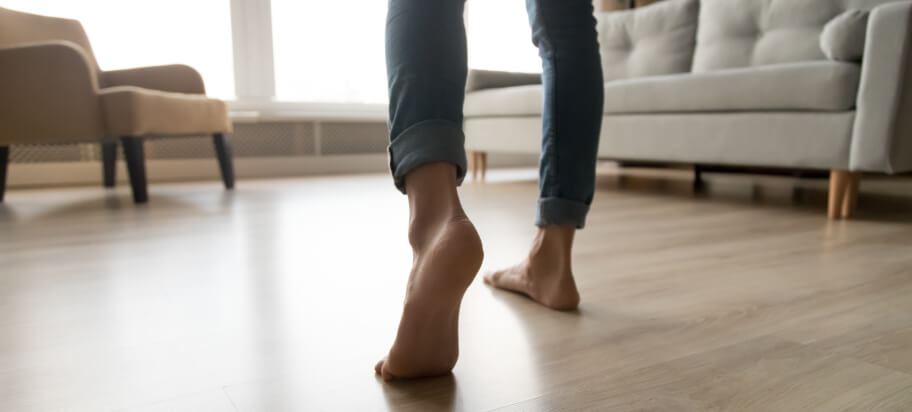 A floating floor is a term related to flooring construction – more specifically, an installation that doesn't require nails or glue. Interconnecting the flooring boards like puzzle pieces creates a tight bond, making the whole process sound like a piece of cake. While easier to install than other types, a floating floor has its cons, and there are problems that you may have to face, such as wear, mould growth or even buckling.
What do you need to know about floating floors?
Floating floors, often synonymous with laminate flooring, are accessible and easier to install without technical preparation and handyman skills. Laminate flooring is an inexpensive type of foundation, and a proper installation allows it to respond to room temperature and humidity.
However, the downside is that you can't sand and finish when it shows signs of wear. The only way to refurbish laminate flooring is by replacing it.
Still, this flooring type is usually scratch resistant as long as you properly care for it – maintain it regularly, clean it and avoid the building of dirt. Another important note is to always dry when water touches the floor, so mould doesn't show. As easy it is to install and fix floating floors, prevention is still better than cure.
Note:
There is also
engineer flooring
, where planks (made of solid wood and durable plywood core) are attached by nailing and, in some cases, this type of flooring can also allow floating installation. Engineer flooring is the most "high-maintenance" floating floor option as it's not so moisture-resistant as
vinyl flooring
. Its looks though, is the closest to wood floors.
Most common floating floor problems and how to fix them
The increased popularity of floating floors is thanks to the low total cost, as well as due to the fact that many homeowners like to try DIY home renovation projects. Still, whether it comes to floating floor installation or general maintenance, it is important to know what to expect, what causes an issue and how to solve the problems if they arise.
Peaking
This is a common problem that can ruin the otherwise perfect look of the flooring. It normally happens when the planks expand, and there isn't sufficient space, so they bump into each other. This creates the impression that the floor is lifting. When the floorboards can't expand by themselves, the high ends will peak. Mind that floating floors are flexible and natural expansion and contraction makes for positive floating installation aftermath.
Solution: First, you need to check for obstructions, such as a permanently attached moulding or baseboards that do not allow floorboard expansion. Try to remove any nails or glue so that the floor can settle into place. This should stop the planks from moving up and down.
However, keep in mind that putting the floorboards back into place can be tricky, depending on the severity of the deformation. It might be better to leave the task to an expert to get that perfect finishing look.
Want the perfect floor without the hassle?
Contact us
A Fantastic handyman can help you right away!
Buckling and warping
Moisture and humidity are the main factors for a floating floor to buckle. For that reason, prevention plays an essential role – do not use excess water to clean the floor. Also, do not let liquids or debris get in between the floorboards. This can contribute to that squeaking sound appearing every time you walk on your laminate flooring.
Solution: If the humidity levels are too high – get a moisture absorber machine. It will prevent floor deformations, but it will also be beneficial for your health. You can try putting a heavy object on the buckled area to solve the problem.
Another way to fix it is by replacing the board – get rid of the moulding near the buckled plank, remove spacers and fit smaller ones. Then trim, give space for expansion and put some weight on the replaced plank to press it down for 24 hours at the least.
Mould
A common problem with floating floors is the accumulation of mould, bacteria and fungus. This usually happens when the humidity in a room is constantly at a high level or moisture remains trapped between or under the floorboards.
Solution: Check the level of dampness before laying any laminate flooring. Furthermore, you should investigate the mould source first, eliminate it and then proceed with changing the floorboards, if necessary. Unfortunately, if there is moisture trapped under the planks, chances are you will have to remove and reinstall the whole floor again.
Floorboard gaps
A floor gapping happens when laminate flooring boards pull away from each other, which creates gaps in different sizes. A considerate drop in the temperature is normally the main culprit here.
Solution: To fix the problematic area, you can try getting the floorboards back in place with specific tools and by filling the gaps with specialised glue or similar paste-like products. This will help prevent future damage and complications, and you can walk without worries on your steady laminate flooring.
Pro tip: To lower the chances of a gap problem, it is recommended to introduce the new laminate floorboards to your home's environment prior to installation. You can leave them in the room for at least a day or two, so elements like humidity and room temperature can have their effect on the planks.
Edge chipping
Chipped edges of floating floors can potentially become a bigger problem than aesthetic appearance. If liquid seeps through the area, mould and mildew can build up, all of the issues mentioned above may occur.
Solution: For minor chipping damage, all you need is a laminate floor repair marker to cover the small scratches. With more considerable damage, it would be better to replace the board rather than risking another type of humid-related problem to occur in the long run.
Pro tip: The best way to care for your laminate flooring is prevention. Be attentive to temperature amplitude, humidity and water on the floorboards. Clean with a vacuum and wipe gently with a damp cloth.
Takeaways
It's essential to learn how to care for your floating flooring – prevention is the best way to keep a good look for longer.
When dealing with a "peaking" problem, find where the floorboards are nailed or glued down and set them back to "floating".
In case of buckling, apply pressure and rest heavy objects where it's warping.
It is essential to find and eliminate moisture to stop mould from growing.
Through specialised tools, products or professional assistance, the floor gapping problem can disappear without a trace.
When severe edge chipping appears, it is best to install new floorboards.
Getting a floating floor fixed is not always easy!
Contact us
Check availability and discuss repairs with a handyman for your peace of mind!