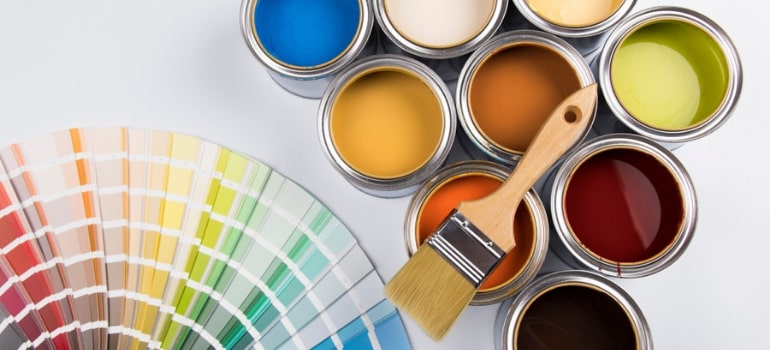 Do you plan to paint or repaint your house? A new coat of paint colour can transform completely any room in your house. There are many types of household paint available on the market.
Acrylic and enamel paint can both be used for interior and exterior walls, furniture and different surfaces. Have you not decided what type of paint you will use yet?

Then, this post is for you! Read below what are the differences between acrylic and enamel paint and make an informed choice.
What is enamel paint?
Enamel paint is a type of paint with an opaque and glossy finish. It's strong, long-lasting and it's usually used for painting indoors or on metal surfaces. Enamel paint is oil-based, but recently water-based enamel became available as well.
Oil-based enamel paint
Oil-based enamel can take from 8-24 hours to fully dry, and it starts drying from the inside to the outside. It has a strong odour and can be cleaned with paint thinners. When using this type of paint indoors, make sure the area is properly ventilated because it emits poisonous fumes.
Water-based enamel paint
Water-based enamel dries faster than an oil-based one. It takes less than 8 hours to dry out completely. It dries first on the inside, and even if it feels dry to touch, it's hard to define whether it's fully dry. It's also easier to clean and remove because it can be washed with water.
Enamel paint can be used on copper, metal surfaces, glass, wood, plastic, and even walls. The paint is resistant to moisture, and it's perfect for surfaces that need to be washed multiple times.
What is acrylic paint?
Unlike enamel paint, acrylic paint is an entirely water-based and non-toxic type of paint. It dries quickly and is very opaque. This means you can paint over it as much as you want, and you can easily correct mistakes.
When it dries, it has a matte finish. If you want a gloss effect, you can varnish it. It's long-lasting, does not break, fade or crack. It can be used indoors and outdoors for furniture, interior walls or painted ceilings.
Acrylic paint, also called latex paint, never dries completely, and that's the reason why it can swell affected by moisture. Use acrylic paint on surfaces where air circulates freely.
What is the difference between enamel and acrylic paint?
The main difference between enamel and acrylic paint is that enamel paint is mainly oil-based, and acrylic paint is water-based.
Enamel paint tends to turn yellow over time in indoor areas where there is not enough sunlight. Acrylic paint doesn't turn yellow over time.
Acrylic paint dries faster than enamel. It takes 2-3 hours for the paint to dry completely. On the other hand, enamel can take from 6 to 24 hours to dry completely.
Acrylic paint has a matte finish look and enamel paint have a glossy look.
Enamel is restricted when it comes to colour variation. They are very few main colours available. Acrylic paint can be found in almost every shade and hew. Enamel can last longer and it's more resistant to cracks and does not fade, unlike acrylic paint.
Enamel is not the best choice for outdoors because it's less flexible than the acrylic and becomes harder which can lead to cracking. If you want to paint something outdoors it's best if you use acrylic paint.
Enamel paint requires a paint thinner to be cleaned. Acrylic paint can be cleaned with only water and soap, which makes it easier to clean and more environment-friendly option.
Acrylic paint doesn't have a smooth surface after application. Brush marks can be seen and it can easily get dirty around high-traffic areas, such as handles, drawers and door frames. But unfortunately, they are not used that often because they're not as durable as oil-based and the surface tends to be left on brush marks after drying.
The major disadvantage of enamel oil-based paint is the fact that there is a high content of VOC materials – carbon-based chemicals that are a concern for the environment and personal health. According to the new LEED guidelines for paint, toxic chemicals must be under 150 grams/ litre for flat finishes. Most of the oil-based enamel paint contains more than 300 grams/litre. Acrylic enamels have less VOCs consistency. Acrylic paint is non-toxic. It contains less amount of carbon-based chemicals (VOCs) – under 50 grams/litre which makes it the more eco-friendly choice for your home.
FAQs about acrylic and enamel paint
Find the answers to some specific questions regarding acrylic and enamel paint.
How to tell if the paint is oil or water based?
If you're wondering if the paint on the surface you want to repaint is oil-based or water-based, there is a simple way to tell the difference. Damp a cotton ball or soft cloth in rubbing alcohol and scrub the paint from a small area on the surface.
If the paint doesn't come off, then it's oil-based paint. If you want to repaint the surface, you need to prime the surface with a bonder before applying a new coat of paint.
If the paint does come off after rubbing the surface, then it's water-based paint. If that is the case, you can proceed with the repainting with any type of paint without recoating the surface.
Can you paint acrylic over enamel paint?
You can paint acrylic paint over enamel paint, but only with proper surface preparation. If you just apply a coat of water-based paint, it won't adhere properly to the surface, and the colour will fade quickly. That's because the sheen of the enamel paint interferes with the acrylic paint.
Clean the surface using a soft cloth and cleaning detergent. After that, use sandpaper to remove the top glossy layer and to create a smooth surface for painting. Apply latex primer over the enamel paint to bond the surface on a couple of thin layers. Make sure every layer is dry before applying the next one. After the coating is completely dry, you can paint over with acrylic paint.
Can you put oil-based paint over water-based paint?
You can put oil-based paint over any type of paint, including water-based paint. You don't have to apply a primer to do so. Clean the surface with a dry cloth and cleaning detergent, make sure that the area you're painting is completely dry. After that, you can apply oil-based paint. Apply the paint on a couple of thin layers instead of one thick layer.
Can you paint enamel over enamel paint?
You can paint enamel over enamel paint without priming the surface prior to the process. Clean and sand the surface to remove any imperfections and to remove the gloss layer, and you're ready to paint over it.
However, if you're planning to use a lighter colour on top of a darker one, it's best if you prime the surface with one or two layers of latex binder, just to make sure the colour will be as bright as you want to, and the whole surface will be completely covered. Without letting the darker enamel "bleed" through the surface.
Takeaways
Don't take this as a battle about which type of paint is better – acrylic or enamel. Different types of surfaces and projects require different types of paint.
Enamel paint is long-lasting, durable and gives the surface a polished, glossy look. It takes a longer time to dry, but this way, there are no brush marks left on the surface. It has a negative effect on the environment.
Acrylic paint is the eco-friendly option, but it's not as durable as enamel. It's available in a wide range of colours and shades, it dries quickly, which may result in not so smooth surface with brush marks, and it's perfect for outdoor projects.
Thinking about repainting your home?
Leave that to the professionals!
You can book our handyman services in Melbourne, Sydney, Brisbane and Perth!