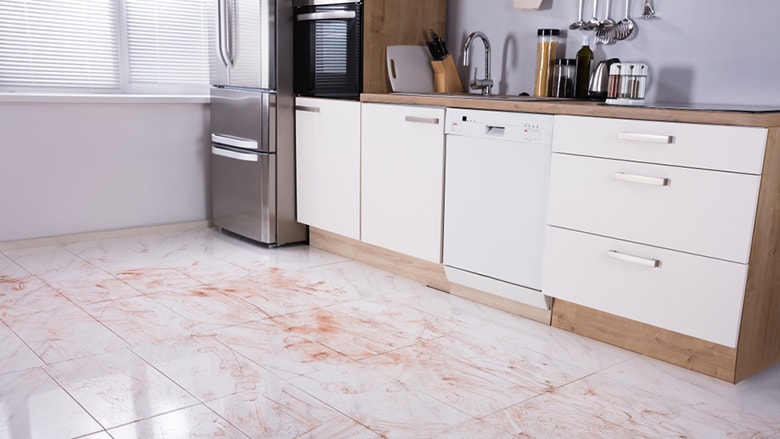 Having the perfect kitchen is definitely on the list of every homeowner. Either if you are renovating your current kitchen, or you are furnishing your brand new home, you should choose the correct kitchen flooring option.
The perfect kitchen flooring is different for every household, and the flooring material that you are going to choose is mainly defined by your lifestyle and taste.
Luckily, there is an abundance of flooring types that will suit your kitchen. It still is important to know the different specifications of flooring types, the costs, pros and cons.
We've covered it all, so you can easily choose the perfect flooring type for your kitchen.
What is the best floor material for a kitchen?
Depending on how you use your kitchen, you will have to choose between ceramic tiles, laminate, hardwood, vinyl flooring, carpet, concrete, and last, but not least – cork.
Every flooring type has its pros and cons. The factors that will play in choosing flooring material depends on the amount of traffic your kitchen has to how often you will cook, and most importantly – your budget.
In this article, we've collected the most common kitchen flooring types, and we've calculated prices for the Australian average-sized kitchens. This means all calculations were made for 14 square meters sized rooms.
Best kitchen floors for high travel areas
If you love cooking, then you'll be spending a considerable amount of time in your kitchen. You'd want durable flooring that won't look worn out in a couple of years.
Most flooring types have options that are made tougher than the original type by using science to reinforce their strength. The downside is that they cost a bit more.
Suitable materials for high-travel kitchen areas are vinyl, ceramic tiles and concrete.
All of those can last you decades with proper care.
Kitchen flooring materials
Choosing the correct kitchen flooring material is important. The proper choice can last you a lifetime, or increase the value of your property, both very desirable things by homeowners.
So, what are the flooring options on the market? Turns out, quite a bit, so let's take a look at them.
Ceramic tiles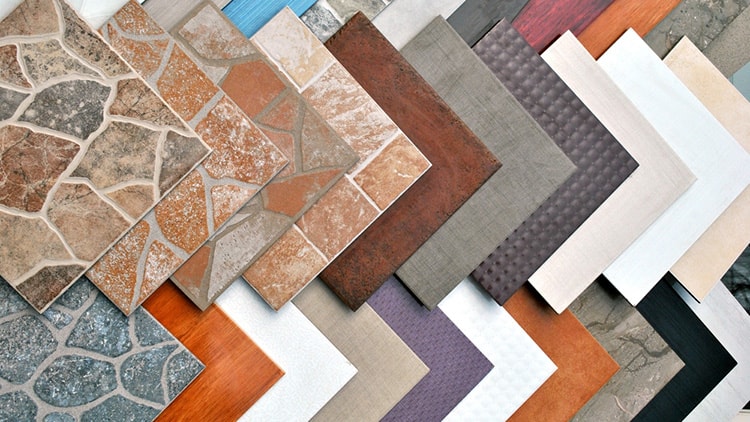 Ceramic tiles are a pretty common choice for kitchen flooring. They are fairly cheap, easy to maintain, and you have endless colour combinations, sizes and styles. On top of that, ceramic tiles are extremely durable.
The cost – Installing ceramic tiled floors in Australia has a starting cost at around $1250. If you are going to DIY the installation, material enough to equip the floor of a 13 square meter room will cost you around $630.
Ceramic tile pros:
Glazed ceramic tiles are perfect for kitchens because they are stain and moisture resistant.
They are easy to maintain, as they require minimal cleaning efforts to look good.
Ceramic tiles are very affordable.
They come in endless colours and variations. You can mix and match different designs for unique looks.
---
Ceramic tile cons:
Unfortunately, ceramic is hard and cold on the feet. If you are looking forward to cooking a lot in your kitchen, you may have to invest in a comfy pair of slippers.
Ceramic chips and cracks. You will have to be careful not to drop a heavy object on it, as fixing cracks and chips is difficult.
When wet, ceramic can be slippery. This means you will have to be extra careful not to spill liquids. However, with a quick mop of the liquid, they are as good as new.
---
Carpet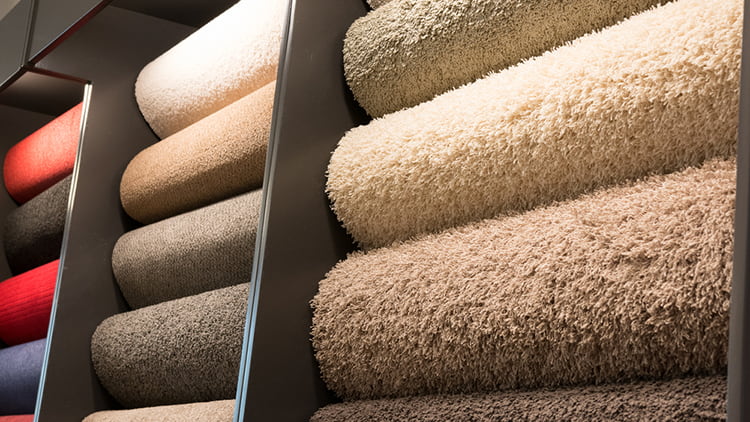 Installing a carpet in your kitchen may not be the cleverest idea ever. Still, carpet flooring can work in kitchens where cooking won't be a common occurrence.
The cost – Installing a carpet is quite affordable. The price for a carpet and installation begins at $1100 for a 13 square meter room. Buying the carpet alone will set you back around $950.
As every flooring type, carpets have their gains and drawbacks.
Carpet flooring pros:
Carpets are pretty comfortable on the feet, and because they are soft, carpets aren't as noisy when stepping on them. (Making them a perfect choice if you want to secretly snack during the night.)
Carpets come in numerous colours and styles, so you will easily find one that suits your kitchen.
You can have area rugs or wall to wall. Which is great, because you can equip the areas that are prone to getting wet with tiles.
Carpets are slip-resistant.
---
Carpet flooring cons:
Carpets tend to collect lots of dirt and moisture. Because of this, they are the perfect breeding place for germs, bacteria and some pests.
People with dust allergies shouldn't opt out of carpet flooring. Carpets collect a lot of dust, and they can trigger allergic reactions.
Carpets are tough to clean. They require constant maintenance, which isn't cheap. To properly clean carpets, you will have to hire professionals that have the machinery and experience.
---
Laminated flooring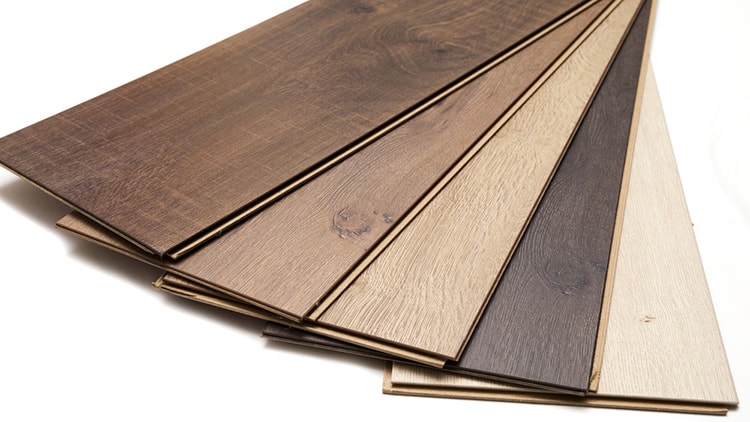 Laminate flooring can bring the luxurious look of hardwood into your home for half the price. This makes this flooring material desirable for homeowners, especially since the floating laminate floor type does not require special skills to install. Of course, with a more affordable price, it has some drawbacks. Learn more by checking our Guide on Floating Floor Problems and Solutions.
Although beautiful, laminate flooring may not be the perfect choice for high-travel kitchens. This type of flooring would suit low-travel, open space kitchens. So, if you spend 1-2 hours in the kitchen at most, laminate flooring may be the perfect choice for you.
The cost – Installing laminate flooring in your kitchen can be pretty inexpensive. The starting price for laminate flooring with installation is $1350. If you can handle the installation yourself, then you can buy the materials for around $750.
Keep in mind that these prices are for the cheapest laminate flooring out there. You can easily find high-end laminate flooring that will cost as much as hardwood floors or even more.
Laminate flooring pros:
Laminate flooring requires fairly low maintenance.
There are numerous colours and designs that you can choose from.
Laminate flooringcan easily be installed over the old flooring in your kitchen.
You can find laminate flooring that is much cheaper than hardwood but looks almost identical
---
Laminate flooring cons:
If the laminate flooring is damaged it can't be refurbished. This is a problem, as laminate flooring easily gets scratched (especially glazed laminate).
It's not a lifetime flooring. Most laminate flooring types have a lifetime warranty for five to ten years.
If a lot of water gets on the laminate flooring, it would bump from underneath.
---
Hardwood
Hardwood flooring is the perfect choice if you are looking to introduce luxury in your home. They also increase the value of the property and retain it for longer periods of time.
Hardwood is also quite a bit more expensive than other floor materials. It's price widely vary depending on the type of wood you want your floor to be made of.
The cost – The starting price for a 13 square meter room is around $2350 in Australia. Acquiring the materials alone will cost you $1700. Depending on the type of wood it can be much more expensive. However, floating engineered wood flooring, for instance, is a more affordable option with a considerably easy installation process.
Hardwood pros:
They are an amazing investment and will increase and retain the value of your property.
Hardwood floors are comfortable and soft underfoot. This makes them perfect for kitchens where cooking will be a frequent task.
You can mix and match different wood types, which will result in unique floor designs.
The range of shade in hardwood floors is tremendous. You can find hardwood in light beige to almost black.
---
Hardwood cons:
Hardwood floors are susceptible to water damage.
Refinishing with wax and oil regularly is mandatory.
You will have to reseal hardwood floors every five to six years.
---
Concrete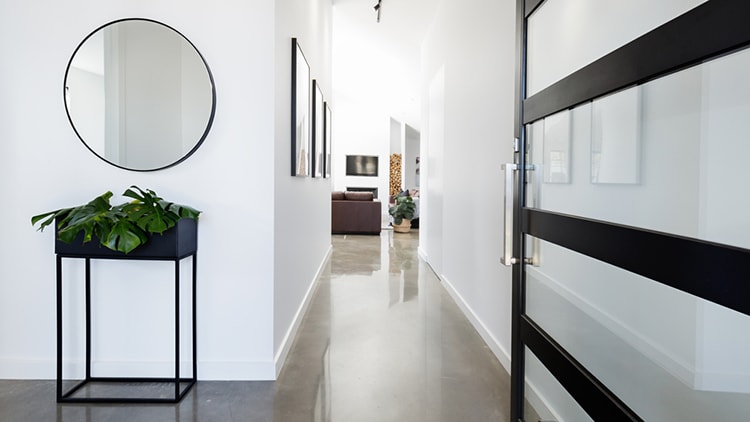 Concrete floors are extremely durable and with the proper care, it will last a lifetime. You can easily mix and match different colours.
Modern concrete mixtures allow for smooth, beautiful designs. Long gone are the days of ugly, dusty and chipping concrete. If you dislike the look in the future, you can easily place any type of flooring material on top of it.
The cost – While concrete isn't the cheapest flooring to install, it certainly isn't the most expensive one. The starting price for an average sized room is around $1900 in Australia, including installation.
Concrete pros:
Extremely durable flooring material. With the proper maintenance, concrete floors can last indefinitely.
Modern concrete can be mixed and made in different colours, so grey isn't your only option.
If concrete is sealed, then it's resistant to spills and staining. This makes it a great option for kitchens.
---
Concrete cons:
Concrete floors are hard. If you drop a glass, plate, or other fragile objects by accident, it will most likely break.
They aren't comfortable and soft underfoot.
You have to wax and seal your concrete floor every tree for nine months.
---
Vinyl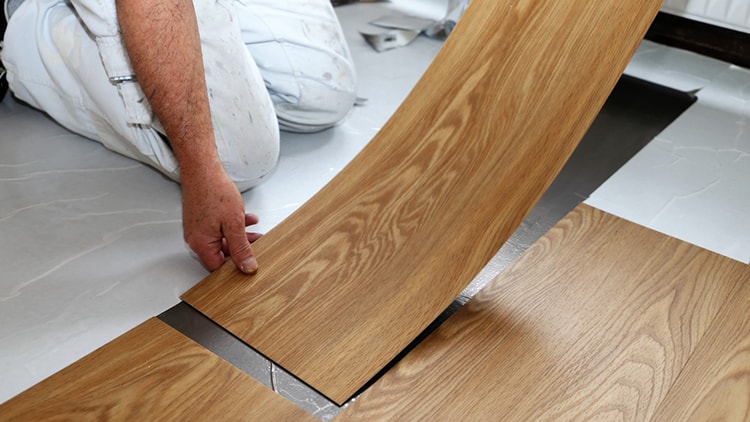 Opting out for vinyl flooring is a great idea. Vinyl is durable, 100% moisture resistant and reinforced with fibreglass.
Vinyl flooring brings that natural wood looks in your home without the cost of laminate or hardwood flooring.
Because of its water resistance, vinyl flooring is the perfect choice for kitchens where cooking will be the primary objective.
The cost – Vinyl flooring is pretty inexpensive. For the nation-average kitchen size in Australia, buying and installing a vinyl floor will set you back around $1145. The vinyl flooring itself would cost you $773.
Vinyl flooring pros:
It's water and stain resistant.
Very comfortable on the feet, which is important if you are going to spend hours cooking every day.
It's fairly inexpensive to buy and install.
It can be easily installed on top of your old flooring.
Vinyl floors are really easy to clean and maintain.
---
Vinyl flooring cons:
It may look like wood, but vinyl floors lack the feel of it.
If they are glued to the ground, it's extremely hard to remove them.
Glossy finishes are quite slippery when wet.
Vinyl floors can be scratched or gouged quite easily. You'd want to be careful not to drop any sharp objects on it.
---
Cork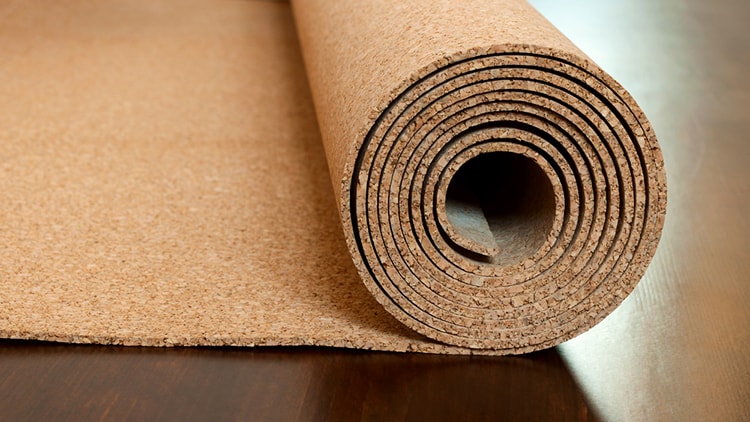 Being the in-vogue material, cork is a great option for kitchen floors. It's also a "green material''. The cork floors are compressed and formed into sheets bonded with resin.
This makes cork floors glossy, featuring some pretty intricate design. Because of its cushiony surface, cork is a great option for the kitchen, as you will spend prolonged periods of time standing on it.
The cost – Because it's very trendy at the moment, it's not the cheapest option. Cork is still considered wooden flooring, and as you expect, it will be a bit more expensive.
Cork flooring is fairly inexpensive if you compare it to other wooden floorings. For a 13 square meter room, material and installation will cost you around $2100 in Australia. The flooring material alone will cost around $1534.
Cork flooring pros:
Cork is warm and soft. This makes it a very comfortable flooring.
You can choose from a large array of colours and designs. There is a type of cork flooring that will suit any kitchen.
It can be easily refinished by sanding, and re-applying the finish once again will make the flooring look brand new.
Cork flooring is very easy to maintain. If you apply high-quality sealer, the only care you will have to take is the occasional sweeping and vacuuming.
---
Cork flooring cons:
This floor type is susceptible to damage. A sharp object can easily pierce through the sealant and damage the flooring. A heavy object dropped on it can harm the cork flooring.
If heavily exposed to daylight, cork can end up with discoloured patches. You can fix this problem by having curtains that block sunlight.
---
Deciding on the correct floor type for your kitchen is never an easy task. You have to put in though and figure out which will be the perfect choice for your property.
Create the home of your dreams with ease!

Hire professional handymen for renovation, odd jobs, plumbing, electrical repairs and more!
You can book our handyman services in Melbourne, Sydney, Brisbane and Perth!