Thinking of refurbishing your walls and/or floors with some trendy tiles? Please take a look below and find the perfect type for your home based on their specifications!
Travertine tiles
Travertine tiles are a great way to have expensive looking natural stones for a low cost. They're pretty easy to cut and install. Travertine is a great way to add a stylish look to your home. A big drawback is that travertine is very porous, and those holes can show a sign of a quick tear. This is something to have in mind if they will be installed in a very high-travel area.
Stale tiles
Slate tiles are a great durable option for high traffic places. It doesn't need a lot of maintenance, and it's really stylish. It can be quite expensive, but it also can increase the value of your home, which should be looked forward to. The drawback of slate is that it stays cold, and it needs to be installed by a professional who knows how to install it and fix it in place before and after.
Limestone tiles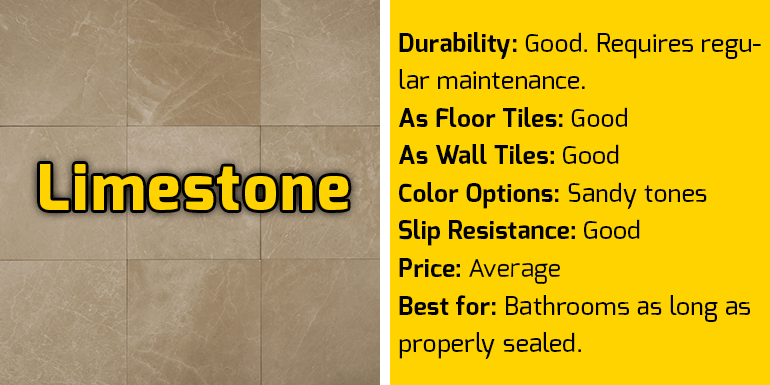 Limestone is a great choice if you want to have a versatile, durable tile and not as expensive as other stone choices like granite or marble. It can be placed on both floors and walls and is extremely tough. Limestone ages really well. The only downside is that it's a soft rock, and it also needs to be regularly maintained. Otherwise, it runs the risk of damage.
Granite tiles
Granite tiles are perfectly suited for all uses. Not only that you'll end up with a beautiful home, but it will also increase in value. Because of its nice aesthetics and durability, granite is a great choice if you want to have something that will last. One big problem is maintenance. It's very time consuming, and granite is a stone that is very sensitive to many chemicals.
Marble tiles
A really beautiful and durable stone, marble brings that extra level of luxury to your home. If you are looking forward to installing marble tiles in your house, make sure you have the right people doing it for you. Just as with any other natural stone, marble needs a high level of maintenance. It should be regularly cleaned and sealed. It's best used on floors.
Concrete tiles
They can be installed almost everywhere, and they are very durable. That makes them suitable for both inside and outside, and they can be fitted everywhere, no matter the size of the space. However, you'll need a professional to install them.
Ceramic tiles
Ceramic tiles are a perfect choice because of their durability and their price. If you are looking to installing ceramic tiles and saving a bit of money, then you've made the right choice. Ceramic is very durable and fairly easy to care for. There is a variety of designs and colours to choose from. The only big minus is that ceramic is really hard, and it's uncomfortable to stand on it for prolonged periods of time. That's something that you should mind about if you are going to install them on a kitchen floor, for example.
Porcelain tiles
Perfect for high travel areas. Porcelain is extremely durable, so much that it isn't really needed in residential homes. It's more suitable for public places like restaurants or malls. The only minus is that it should be installed by a professional who knows how to make the sediment properly because porcelain needs a special type of sediment.
Raw steel tiles
Perfect for backsplashes, steel tiles are suitable for any suitable place for marble and other natural rocks. Steel tiles can have various types of designs. Any competent steel fabricator can provide a range of surface textures such as hammered, quilted or ribbed for your stainless steel, zinc, brass, tin or copper backsplash.
Stainless steel tiles
Just like with raw steel, stainless steel is great for backsplashes and kitchens. The only difference is that the finish is different from the raw steel.
Copper tiles
Copper has been used for roofing for centuries because of its durability and stunning looks. However, copper isn't the best material for floor tiling. It's a great way to add style to your bathroom and walls where you want. It's suitable for both inside and outside.
Brass tiles
Brass tiles are cut from a single brass sheet. Perfect for both indoors and outdoors, brass tiles are very durable and will be a great choice if you plan long-term. They are pretty neutral to atmospheric exposure. Brass tiles develop a protective layer of a green patina through the years, resulting in some pretty striking patterns.
Glass tiles
Perfect for decorative accenting and backsplashes, glass tiles are beautiful. It's good to research before you choose who to install your glass tiles because it's not a job for everyone, and it requires a lot of expertise. If you want to install these as flooring, then make sure your tiles are suited for it.
PVC tiles
Inexpensive and fast to install PVC tiles are a great choice if you want to cover a whole wall fast, without a lot of hassle and keep mostly everything clean. Very easy to install, and there is no cutting that has to be done. PVC tiles can be used as roof tiling because of their weight.
Download the types of tiles cheat sheet
Create the home of your dreams with ease!

Hire professional handymen for renovation, odd jobs, plumbing, electrical repairs and more!
You can book our handyman services in Melbourne, Sydney, Brisbane and Perth!