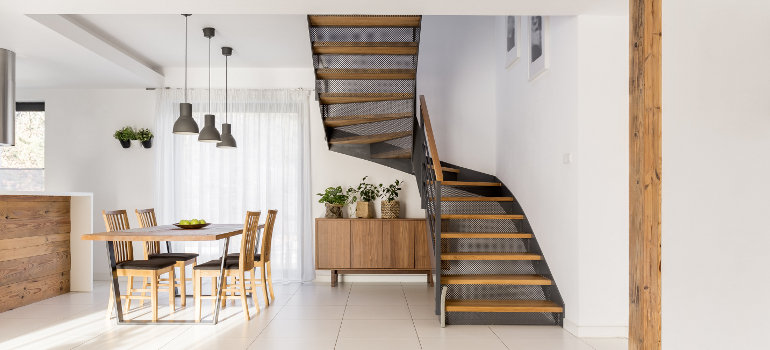 The true definition of a luxury home is a place with such amenities that makes the owner feel lavish and spoiled. Extreme extravagance and luxury is something that can change one's lifestyle completely. The word luxury might strike different chords for different people. But there are some staples that every luxury home must have.
If you want a luxury home for your family, then now is the time you have a look at some of the best luxury home ideas you can incorporate in your new property:
---
Open floor plans
---
As they say, the first impression is the last. The entryway is crucial for the first impression of every expensive property. A large staircase with an airy open floor plan is a perfect example of what the entry point of luxury homes look like. But there are various other home entrance designs that can fit in the idea of the luxurious entrance.
Many people invest in spacious foyers to connect the entrance to their living room. The foyer is the place where the guests are welcomed. It usually has a space to hang the coats and, eventually, a couch to sit on. Once the guests enter, they are usually led to a spacious living room connected with the kitchen through a stylish countertop. The openness of the space is a key factor in luxury homes, as it creates a vision of grandeur.
---
Investing in technology
---
We are not foreign to the concept of the ever-increasing swarm of technological innovations. A lot of home buyers these days are investing in making their places 'smart homes'. This way, these properties will stay on top of the real estate markets. Certain features are necessary for luxury homes. Technology has made our lives so easy that just a touch on your iPhone and you can manage the different settings of your house.
The lights, alarm system, air conditioner and various other automatic devices can be controlled with your phone. There are also control touchpads installed throughout the house to help you easily navigate and control everything in your surroundings. If you install these wireless home automation devices, they can prove to be one of the best features that buyers are looking for.
---
Fully stocked kitchen
---
The kitchen is the heart of the home. Only high-class restaurants can surpass it when it comes to amenities. And the luscious lifestyle requires a marvellous kitchen. Warming drawers, wine cellars, natural stone countertops, state of the art appliances are all important parts of the luxury kitchen design. An affluent kitchen will also contain a walk-in pantry fully equipped for proper food storage. This will also make the kitchen look more appealing and will prove to be beneficial if you wish to sell the house in the future.
---
Game rooms and home theatre
---
Luxury home buyers don't settle for only a big TV, they need to have it all. This is why private home theatres are so popular. They provide a comfortable space to lounge with family and friends and enjoy the latest movies without the need to go to a crowded cinema. And thanks to modern technology, you don't need to sacrifice the quality of the picture you get on the big screen because you get the same one in the comfort of your home. The most impressive home theatres contain recliners, stadium seating, customised couches, special lighting, and more.
Many luxury homes also contain their own fame rooms, fully equipped with bar areas, pool tables, table tennis, game consoles, board games, and anything else you can wish for. With a home like that, you don't even need to go outside, just "because you basically have everything".
---
Spa bathroom
---
Gone are the days when a simple bathroom would serve the purpose. When we talk about luxury, your bathroom should feel like a spa when you enter it. Massive walk-in showers, huge soaker tubs, head to toe massaging jets, marble flooring- all of these comprise to form the perfect luxury bathroom. Other popular enhancements include towel warmers, heated floors, automated toilets with bidets, seat warmers, driers and many other comforts.
---
King size bedrooms and dressing rooms
---
Luxury isn't limited to the common areas of the house. The bedrooms are also designed to be private sanctuaries of rest and sleep. Since we spend so many hours in them, it's important to have a lot of space, a huge bed, elegant and soft bed sheets, and many comfortable seating areas. Having the latest technology in our personal space is also important. Some of the most popular techs you can install in the bedroom are automated lighting systems, remote-controlled window blinds or shades, as well as modern music or TV systems.
Another important part of the bedroom is the dressing room. Every luxury home has large dressing rooms attached to the bedrooms. There you can store not only clothes, but also shoes, belts, jewellery, and many other clothing parts. These dressing rooms have specialised compartments for all these important things, with special hangers, drawer separators, and everything else you might need to keep your items organised and well-stored.
---
Home gym
---
Wealthy people don't like to go to gyms, where many other people sweat and shower. This is why home gyms and exercise rooms have become trendy additions in the last decade. They are equipped with everything a regular gym would have – weights, treadmills, stair-steppers, elliptical trainers, and everything else you can think of. They also include TV's, wireless speakers, indoor pools, saunas, and spaces for relaxation after the workout.
---
The right way to bring your luxury home idea to life
---
If you plan to build or renovate your home, you need to contact the right type of home builders and handymen. Do not take any chances and work with someone who has extensive experience in the industry. The right home builder can help you understand what type of design will be best suited for your lifestyle. They will consider various aspects that will help them to achieve the most appropriate home look for you and your family.
Designing a home is a big decision. You need to invest your trust in someone reliable who will do the best for your home. With the help of a builder, you will be able to figure out what type of house fits your budget and needs perfectly.
Leave home renovation to the professionals
Hire reliable handymen to help you with your project