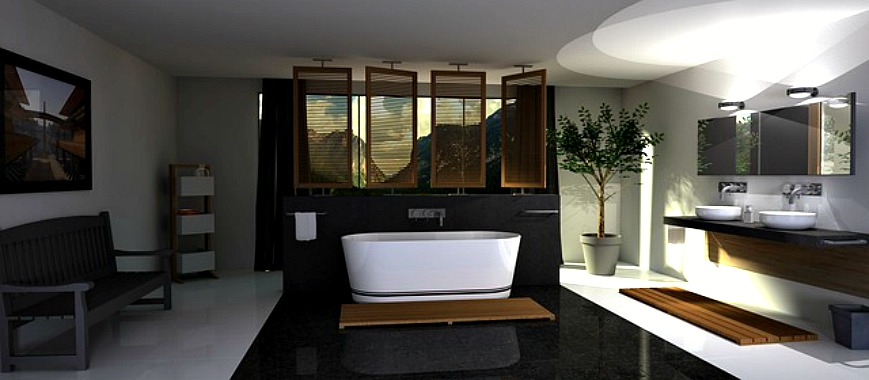 Bathroom renovations, regardless of the premises' size, are not as easy as it seems – it's not just placing the shower, sink, and toilet. The process requires careful planning and research, so you get the best results, and sometimes a simple renovation might require certain permits or is subject to special regulations. Before we start explaining at length what needs to be done, here's a summary of what a bathroom renovation is all about.
Look for ideas and plan carefully
Having in mind this is not a process that can be completed in a few days, let's divide bathroom renovations into a few easy steps. You can divide the process into stages like ideas research, contractor search, budget setting, choosing proper materials, makeover jobs timeline.
Choose a concept
Ponder about all the design concepts which caught your eye before you start renovating a bathroom. The appearance of your washroom might not match your dream idea, as you might lack space, budget, or something else might become an obstacle. This, in its own turn, makes the renovation of your bathroom a little bit harder. Make up a few points according to which you can compare the variations and make the right choice. For example, decor that blends functionality, practicality, style fits in a reasonable bathroom remodel budget and quickly becomes outdated. You can look for inspiration for your bathroom's new look if you have no particular ideas.
Be realistic
This is a piece of advice both designers and bathroom renovations specialists in Melbourne and worldwide would give you. You might have chosen one of the hottest shower room looks which, however, might not comply with your budget.

Choose a contractor
Look for a reliable remodelling contractor, a company that specialises in bathroom makeovers, before you start renovating. You might think of this as rushing into things, but this step is a way of testing your ideas on paper. If you find a professional, you'd be able to discuss your ideas with them and see if there are any downsides to your final decision. If you're wondering if you should place a bathtub or a shower only in the bathroom, you might use their opinion on the matter. It's always best to find somebody who can cope with a few jobs and not a separate contractor for each job. This way, they will help you set up a timeline for each small makeover step.
Set up a realistic budget
Often, it does not resemble dreamy TV commercials. It's more of a carefully measured process, where each step is consistent with the one before and after, so problems are minimised. Plan your renovation budget first. Decide how much you can spare for the new look of your washroom so you don't end up breaking the bank. If you have difficulties making up your mind, think of what needs to be done and consult with your hired contractors.
Set up a timeline
Having chosen, discussed all ideas and possibilities, it's always better to set up a bathroom remodelling timeline. To create it, you might need some professional help from the contractor you've chosen to do the refurbishment work. As people with years of experience, bathroom contractors often know how much time a particular job (like retiling or painting the walls) might take. Knowing this, you won't have to rush to the stores and buy all materials at random or be overwhelmed by everything happening at once.
Additionally, give yourself time. It's actually more practical than philosophical, and we're advising you on that, so you have a few spare days for each phase of the washroom renovation project. This way, if there's an unpredicted delay or an obstacle, the remodel won't be ruined by surprise circumstances. And last but not least, you, the bathroom contractor, will be able to tell you the sequence of all the jobs which need to be done.
Follow a logical consistency
In case you're planning a lengthy and complete refurbishment for the washroom, make sure each makeover job is followed logically by the other. What do we mean by that? Here's an example. If you'll be renovating the ceiling, walls and floor, start from the top of the room and work your way down. This way, you will be able to prevent complications like scratches or splashes on your new flooring. Paint the walls before placing the bathroom furniture, thus prevent smudges on the medicine cabinet or sink.
Take your time choosing the right materials
When renovating a bathroom, deciding between tiles, wallpapers, paint or anything else seems rather easy. However, these need to be carefully considered, as well. The answer to the question "Why would I bother sparing so much time at staring tiles and wall covers? " is simple – you need to make the right choice, so you don't redo the renovation and end up paying double for hasty decisions.
How to choose the right bathroom flooring
This question comes up naturally when you think about the practicality of the floor. Think of what would be best for you when using the shower room, except the appearance. If older adults are living with you, it would be best to choose a material that is not slippery when wet, like vinyl (which comes in many designs).
How to choose bathroom tiles
Buying the perfect tiles for your washroom includes serious research. You can choose between a large array of materials, designs and sizes. However, when choosing tiles, you should consider a few factors to be your guidelines:
Water absorption – In plain human language, this is a feature that determines how susceptible they are to humidity and water absorption. Porcelain tiles, for example, are perfect for wet area rooms.
MOHS score – Geology has made it possible to measure the hardness of a mineral with a scale from 1 ( matching Talcum) to 10 (matching the hardness of diamonds). In the case of porcelain tiles, their hardness is between 7 and 9, which makes them scratch-resistant.
Abrasion – the abrasion level of tiles determines how easily scratched the floor coverings can be and is determined by PEI ( Porcelain Enamel Institute) score.
Breaking strength – Naturally, this characteristic is assessed by the level of strength needed for the tile to break. In other words, how much pressure needs to be applied for the tile to break into pieces.
Easily cleaned – Last but not least, the tiles you've chosen should be easily cleaned. This way, you won't have to spend hours scrubbing stains, and, what is more important, you should be able to clean them with plain cleansing solutions. For the people with a tight bathroom makeover budget, this is an essential factor, as spending a tonne of money on special treatment solutions and equipment would be a significant hit on their monthly budget.
How to choose the right materials for bathroom walls
When choosing the materials for the shower room walls, make sure the paint, wallpapers, glass tiles are humidity and water-resistant. Most wall materials for wet area rooms are specially treated to endure the high moisture amount. This keeps them from rotting and getting covered in mould or (in the case of wallpapers, for instance). Among all types of paint, which include matte, eggshell (satin) or and semi-gloss finishes, the second two are best for a damp room.
Choose the lighting
Choose special bathroom lights, which are strong enough to shine on the whole premises without stressing your eyes. Some specialists say that if the lighting is good enough for older adults, it is good enough for younger people. You can choose your lighting by the design, the position of the lights and the amount of natural light on the premises. Some of the most popular lighting types, when it comes to bathroom trends, are LED bulbs. They provide excellent, strong shine and don't irritate the eyes. You can opt for many types, including vanity lighting, lights over the bathtub, shower, overall or daylighting.
Pick the right furniture
The furniture, as well as many other items or coverings, would have to be specially treated to endure the moisture and water splashes. Other than this, you might want to consider the style and functionality the furnishings offer.
Create the home of your dreams with ease!

Hire professional handymen for renovation, odd jobs, plumbing, electrical repairs and more!
You can book our handyman services in Melbourne, Sydney, Brisbane and Perth!