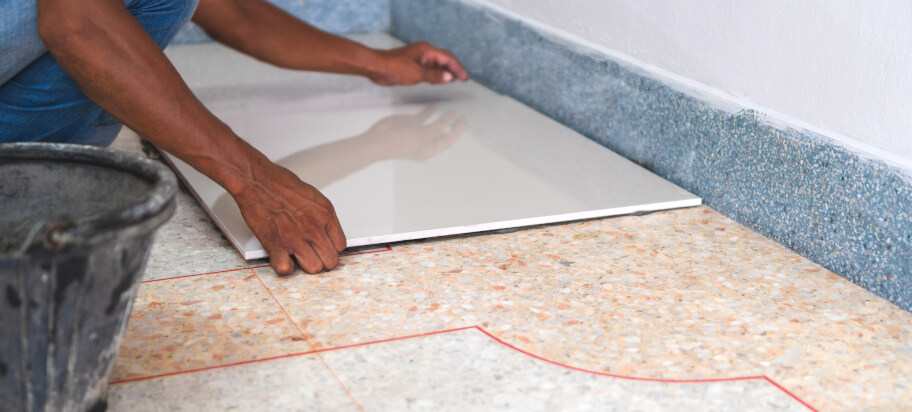 Dealing with an exhausting house renovation may not be the best way to spend a weekend. Especially when the kitchen or bathroom are involved. Removing old tiles is a messy and strenuous job, so tiling over existing tiles is a great way to redo the space faster.
Such a project can help cut off the hassle, the dirt and the expenses altogether! However, there are some pitfalls to watch out for, so keep reading on if you want to know more about the pros and cons of tiling over tiles, the process itself, etc.
Can you tile over tiles?
Yes, you can and it can be great for a fast room update, too. Saving time and effort is always a good idea, as pulling the existing tiles is hard labour.
However, there are factors to consider before choosing this method for a bathroom or kitchen update. To help you decide better, read the pros and cons and determine if you should tile over existing tiles.
Pros
One of the main advantages of tiling over existing tiles is that it is time-saving. This more straightforward solution will save you the headache of removing the old tiling, installing the new ones and spending a great deal of time cleaning afterwards.
Another advantage of this renovation technique is its affordability. It is cost-effective because you can avoid renting heavy stripping machines that could be hazardous when improperly used.
Overall, this method is DIY-friendly and a great way to spruce up the bathroom or kitchen space. Still, there are some factors to consider before you make your final decision.
Cons
Laying tiles over old tiles would result in adding extra height to your floor. This may become an issue if the new floor level starts blocking the doors or cupboards. Chances are they have already been levelled to the old flooring.
Another drawback could be the step to the bathroom entrance becoming too high and a hazard accident spot.
Your existing tiles must be in relatively good condition – evenly placed and without cracks to retain moisture if you consider going the DIY way. Tiling over badly damaged or uneven tiles won't improve the room but will cause further complications and possible repairs.
Need help installing your new tiles?
Check availability for a Fantastic Handyman in your area.

You can book our handyman services in Melbourne, Sydney, Brisbane and Perth!
How to tile over existing tiles
Before you start, inspect the state of the existing tile flooring. Check for any loose tiles by tapping each of them and wait for a hollow sound. If you hear any, you can still lay tiles over them. However, a good rule of thumb is to allow no more than 5% of hollow areas. If there are a lot of loose tiles, consider replacing them before the tiling overwork starts.
Here's what you will need:
Clean cloths
Gloves
Water
Mild detergent
Primer
Tile adhesive
Grout
Trowel
Clean and prepare the area
Before you start laying tiles, you need to clean the existing floor thoroughly. Don't undermine this step – you will thank yourself later with cut off time for drying and cut off risk of mildew/bacteria built. Use a vacuum cleaner for collecting sand and other debris and then wash with water and detergent. Rinse and dry well.
Remove all the furniture and check for unevenness. Pack up with glue on the surface that needs levelling out. For a stronger bond between the two layers of tiles, you can apply a layer of primer on the old tiling and let it dry.
Lay in stages
No need to rush with the groundwork. It is best to lay the new tiles one by one, as drying time may vary. Also, do not waste a lot of time once the bonding agent is applied on the tile or it may dry before you can install it. "Draw" straight lines along the wet surface with the edge of your trowel – the grooves aid with the drying and adhesion process.
Position the tiles as you go
Set each tile on the freshly scored adhesive and press firmly to the floor. Repeat the same process until all new tiles are in place. If your original tiling is in perfect condition, you can apply adhesive directly to the back of your new tile.
Seal off your work
The finish is applying grout in the grooves between the tiles. Using grout is an essential step for protecting the floor from moisture and mildew growth. Choose an already mixed grout from the hardware store – it will save you time and effort. Quickly apply it in a single round.
Here are a few more pointers to consider:
Get professional advice if the base is plasterboard – with a maximum weight limit per square centimetre, two layers of tiles could result in structural damage.
Adhesive for laying tiles over tiles is different from what's used for the first laying. Choose the type of bonding agent well. Generally, it's advised to use the same adhesive brand as the primer. The adhesive used for tiling over existing tiles consists of two types: matt finish and gloss finish.
Make sure you calculate the floor raising (3 cm on average) in the equation – remove doors and bathroom storage units to trim off where necessary.
Takeaway
Laying tiles on tiles is a time and money-saving renovation method, as long as you work on a generally sound floor.
Take your time inspecting the surface for mildew, uneven or strangely-placed tiles. The surface should also allow the new layer's added weight.
The main drawback – the raised floor is solved with proper measurement and trimming the bottoms of doors and furniture.
As long as you measure carefully, assess your old flooring condition and have some basic handyman skills, there is no reason that laying tiles over existing tiles should create any issues.
Want a professional job done by a certified expert!
You've got it! A Fantastic handyman is just a click away!
You can book our handyman services in Melbourne, Sydney, Brisbane and Perth!