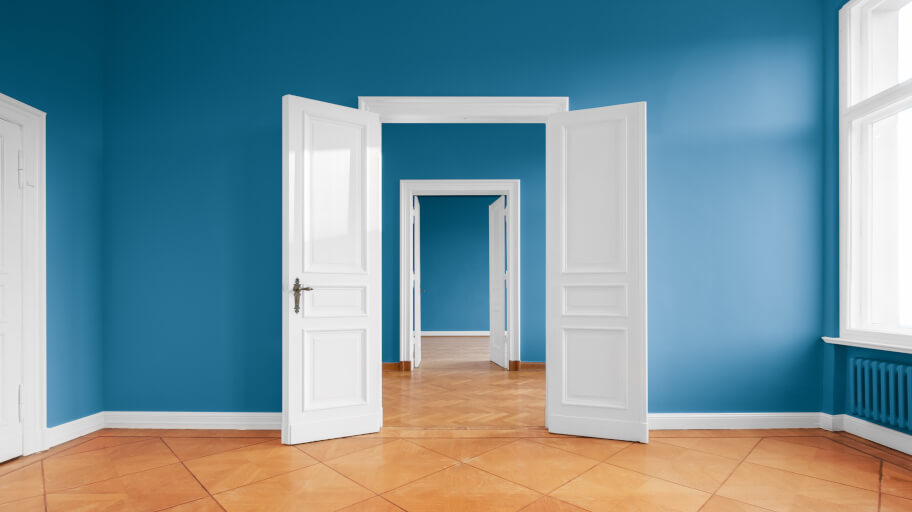 Achieving the right aesthetics for your living space is among the most important aspects when it comes to renovating your home. And to accomplish this, we imagine, you would most probably strongly rely on using the right colours and types of paint, be it on your furniture, walls, ceilings, doors or window frames.
Well, manufacturers in Australia provide a rich choice when it comes to selecting the right colour, sheen and type of paint that meets your budget. However, some of you, who consider yourselves newbies, may feel confronted with the limited choice of using either a gloss or matte finish interior paint for your house refurbishment project. And you simply can't decide, right? Well, then, did you know that the Golden Mean exists and it's called semi-gloss?
So, read on, to find out what exactly is semi-gloss paint, and when and how to use it if you're about to renovate your home.
What is semi-gloss paint and when to use it?
When we talk about gloss, semi-gloss, satin, we're really referring to the sheen or finish of the paint. Flat and matte paint finishes have no shine to them, they do not catch light but rather absorb it. Gloss and high-gloss paints, on the other hand, are the complete opposite. They have a glass-like finish when dry and are very reflective. Then, there's the middle ground where eggshell and satin live, being less glossy but still shinier than the matte and flat finishes.
Semi-gloss paints in particular are among the paints with a higher sheen level. This type of paint may be latex, water-based or even oil-based. Their sheen comes from the concentration of polyurethane. Being glossier than eggshell and satin style finishes, semi-gloss paints come off a bit duller than gloss and high-gloss. They are a lot more durable compared to the low-sheen paints. To make it easier to visualise the shine qualities of paints and get a better idea where each finish stands compared to the others in terms of sheen level, you can follow this scheme. Least to most reflective:
Flat
Matte
Eggshell
Satin
Semi-gloss
Gloss
High-gloss
Semi-gloss paints are ideal for surfaces and fittings, such as doors, trim, window casings, door frames, baseboards, and even retouching and restoration of furniture pieces, cabinets, built-ins, etc. This type of paint also works well for rooms with high-humidity levels, such as kitchens, bathrooms and laundry rooms. Semi-gloss paint on walls looks beautiful and is perfect for highlighting particular features or focal points in a room. You should bear in mind that along with specific details, semi-gloss paint will bring out imperfections due to its shinier finish. However, it is because of the glossy finish that it has the benefit of being wipeable and washable, making it easy to maintain.
Should you choose semi-gloss paint or another type of paint?
Ultimately, the kind of finish you will choose to make your home stand out comes down to personal preference. That being said, there are always things we should look out for when selecting paint, as each paint finish comes with certain pros and cons.
Flat and Matte vs Semi-gloss paint
If you're dealing with a room with some noticeable imperfections, choosing matte and flat finishes will help soften those. However, those two finishes will not handle moisture well. It's best to avoid using flat and matte paints in the kitchen or bathroom, or if you're dealing with humidity issues in your home. Semi-gloss will be the way to go and will help with restricting mould growth.
Eggshell vs Semi-gloss paint
Eggshell will offer a bit more, in terms of durability, while still not being too shiny. It is a popular choice if you're after a soft paint finish, as it can help brighten up a room, depending on the colour you go for. Eggshell finish colours will look lighter than the corresponding colour in semi-gloss finish. Both are easy to clean and maintain but keep in mind that eggshell lacks durability, so it is advisable to keep in low-traffic areas, such as the closet, the bedrooms, and surfaces out of reach, like the ceiling.
Satin vs Semi-gloss paint
Both satin and semi-gloss finishes have some sheen to them, with the satin one being softer and more subtle. Satin finish being with a lower sheen level, as well as other low-sheen finishes, will be more forgiving when it comes to imperfections. It is a common choice to actually combine the two styles of sheen by painting the walls with a satin finish and bringing out trimwork, doors, window frames with semi-gloss paints.
Gloss and High-gloss vs Semi-gloss paint
Semi-gloss paint is often seen as a compromise between flat finishes and gloss.There is not much difference between the semi-gloss and the gloss types other than the sheen. The semi-gloss is a bit more subdued, in terms of shine. Semi-gloss paint doesn't lose ground on durability, compared with gloss finish paints, with both being easy to clean and moisture resistant.
How to use semi-gloss paint?
Before you get to applying the paint, you will need to prepare your room or furniture pieces for painting. If you're painting a room, make sure to clear all the furniture out and lay down plastic sheeting or drop cloth. Any furniture, you can't move out, you can just move to the middle of the room and cover with a plastic sheet, too. Invest in masking tape to protect any surfaces you don't want to accidentally smudge paint on. If you're painting a single item or piece of furniture, it's best to take it outside, in a garage, ideally, or in any well-ventilated area outside your home.
Are your walls already painted with semi-gloss paint?
If your walls have been already painted with a semi-gloss paint or any other high-sheen finish, you will need to lightly scuff the surface first. With a shiny finish like semi-gloss paint as a base, any layer of paint you put on top will not adhere properly to the surface. This will leave you with a patchy and not very durable paint job. Using some fine sandpaper to smooth out the walls and furniture before painting will give you the correct texture, so the semi-gloss paint can stick and stay. Don't skip on laying down a proper primer and smoothing that, as well, once dry.
After you have primed the surfaces, you will need to remove any dust, as particles trapped under the paint will ruin the finish of your semi-gloss paint. A tack cloth or a damp cloth with water and a little soap will take care of any residue dust and impurities on the surface. In other words, a smooth base is key for a flawless finish.
Do you have an oil-based or water-based paint?
Depending on whether you have an oil-based or water-based semi-gloss paint, you might want to thin the paint before starting the application. Enamel semi-gloss paint, for example, which is oil-based, will be runnier compared to water-based variants, like latex. Depending on the method of application and the result you're going for, always check the manufacturer's label to confirm the thinning ratio. Before the application, a good tip to get that extra smooth finish is to strain the paint. This will get rid of any clumps. And if you want to further ensure a smooth finish, you can add a conditioner.
How to apply the paint?
When it comes to the application of semi-gloss paint, using a roller is always a good and preferred choice. You will want to choose the thickness of your roller, based on the type of surface you're painting. For rough and imperfect surfaces, you will want to go for a long pile roller. Sort-pile rollers will work best for semi-smooth and uneven surfaces. While for smooth surfaces, doors and furniture, you will be best off using a foam roller.
Once you paint the first layer of semi-gloss paint, it is best to leave the surface to dry out properly before applying a second coat. Normally, semi-gloss paint takes about 1 hour to dry and in about 2 hours, you will be able to recoat. Always double check with the instructions of the particular brand. The drying time can vary, depending on the humidity levels and temperature in the room. Make sure to apply a thin layer of paint for best results.
Faced with a painting challenge and don't know where to start?
Don't have time to do this by yourself? Trust the professionals with Fantastic Handyman Australia to do the job for you!
The Fantastic professional handyman can do it all!
Takeaways
Semi-gloss paint has a higher sheen, which makes it easy to clean and maintain, however its shine will make impurities on the surface more noticeable.
Before laying down semi-gloss paint, always prime the surface.
If you will be thinning out the paint, always check with the manufacturer's instructions to confirm the proper ratio.
When you lay down the semi-gloss paint, allow it to dry before you do a second layer or touch ups.
Semi-gloss paint is the preferred choice for high-traffic areas, trimwork, window and door frames, and rooms with high levels of humidity.