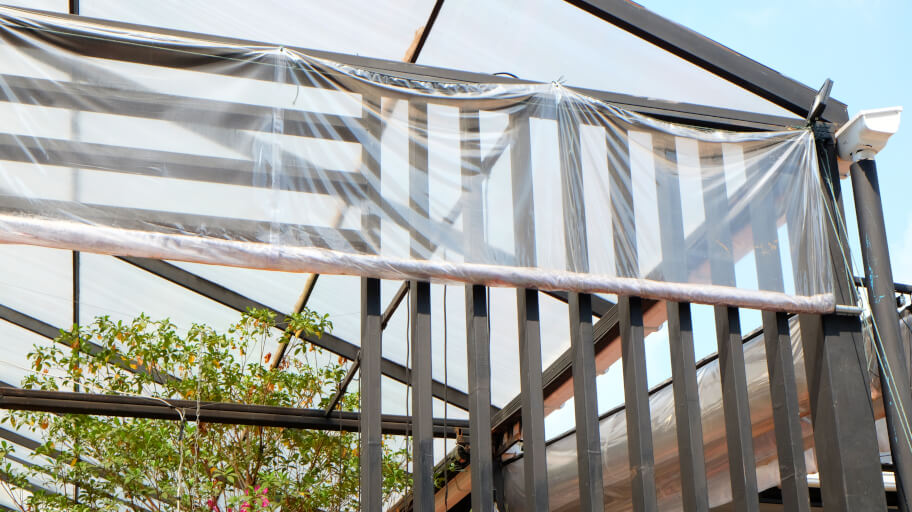 Bistro blinds are widely popular among owners of cafés and restaurants. However, they also work as a wonderful solution for homeowners across Australia and that's no surprise. Bistro blinds secure shade and provide weather protection while reducing exposure to UV rays. Along with this, they are very affordable too. They are also an ideal choice if you are looking to create a safe and cosy outdoor space in your backyard, instead of building a permanent structure.
If you've already decided on equipping yourself with new bistro blinds, the great news is that you can install them easily on your own.
But how does one actually install bistro blinds? Don't worry – we've got you.
We have prepared some useful information and a step-by-step guide for all those of you who want to install their bistro blinds by themselves.
What are bistro blinds and how do they benefit your home?
Outdoor blinds are widely popular because of their numerous benefits. Bistro blinds, in particular, have been designed to help people enjoy the outdoors, regardless of the weather, providing a clear view of their surroundings. Due to that, they are favoured by both home and business owners.
If you live in an area defined by extreme heat during the summers, harsh winds, or heavy rainfall, it is only natural to worry about the comfort of your backyard being disturbed. However, outdoor blinds make for a wonderful solution. Protective and durable, these types of blinds are mostly made of PVC and designed to be winter and waterproof, resilient to UVR, and prevent insects from entering.
Not only do these blinds boost an easy installation process but the uninstallation procedure is also very simple. Moreover, the versatility of colours and designs in which bistro blinds come in can suit any taste, as well as any unusually shaped space, regardless of odd angles and roof pitches.
Taking all of these advantages into account, installing bistro blinds is worth considering for homeowners with large backyards.
How to install bistro blinds
Installing bistro blinds is generally easy. Of course, there are some tricky parts but you don't need to worry. If you know the proper techniques, you will be able to complete the project. For a straightforward process, check the suggested steps below on how to properly hang bistro blinds.
Important: Depending on their brand, bistro blinds have their differences in terms of installation processes. We advise you to check the manufacturer's instructions for specifics before implementing the steps below.
Tools and materials:
Pencil
Tape measure
Level
Drill
Screws
Wall anchor tracks
1. Measure the space
First, before you even buy the blinds, measure the area where you plan to install them. You have to make sure that the blinds you purchase will fit the space you want to cover. Bistro blinds often come in a square shape and are zipped together to enclose the area.
Also – you will need to decide whether you will go for one big blind to cover your space or several smaller pieces.
Measure between the inner edges of your wall posts. You will need to plan out the entrance and exit prior to the installation as well.
2. Establish a solid structure
Bistro blinds need to be installed on a solid structure. This is important for the security and stability of the blinds. The ideal situation will be to attach the headrails of the blinds to an existing crossbeam, wall, or ceiling that is made from a solid material, such as concrete or brick.
In case you don't have such a structure, you must add a bulkhead. The bulkhead is a beam that runs along the perimeter of the blinds. This will create an even surface where the headrail can be securely attached and allow the blinds to open and close seamlessly.
The simplest option is to get a U-shaped aluminium beam. You can attach it with the help of timber boards and a couple of screws.
3. Mark the future holes
Using a tape measure, determine the middle point of the crossbeam or the alternative structure to which the headrail will be attached.
Mark it down using a pencil.
After that, do the same with the headrail of your blinds. Once you have found the centre point, mark it down, and drill a hole in its place. It's possible for the headrail to come with premade holes, in which case you can skip the drilling part.
4. Hang the bistro blinds
Align the hole you have made on the headrail with the mark on the crossbeam and drill a screw in it. You can opt for a baton screw to make it more secure. Use your level to make sure that the headrail is aligned and attach two more screws at either side of it.
5. Add the wall anchors
The wall anchor is where the roped edge of the blind goes in. Pre-drill the anchors following your manufacturer's instructions. Insert the roped edge into the channel, running along with the wall anchor. Do so by placing the lower end first and sliding it through the channel. Finally, zip up the blind.
6. Secure the wall anchors with screws
Now it's time for you to screw the anchors to the post. If your wall anchor is black, you can use black screws but, more importantly, make sure that they are the right length to ensure a stronghold.
Install the anchor plates at the base of the post or into the flooring. To avoid possible damage by the wind when you plan to keep your blinds down, make certain that the straps are tightly tied up to the base anchors.
7. Add a cord cleat for convenience
Using screws, install a cord cleat to the post at a convenient height but make sure it is high enough to keep it out of children's reach. To prevent entanglement, each time you tie the lifting cord, do it in a figure-eight pattern.
Keep in mind that it's normal for the blinds to be wrinkled in the beginning – it will take a few days for them to straighten up.
Do you need help with the installation of your new blinds?
If you want to create your own safe outdoor space but you feel uncomfortable installing the blinds on your own, turn to a team of professional blind installers for help.
The installation, although very straightforward, can be time-consuming and will require several tools. To save you the worries, the handymen, who we are proud to work with, are ready to step in and help you with the installation.
The team of experts is equipped with the required tools and they are also skilled enough to finish the job quickly, providing excellent results. Have a thing or two more to fix around the house? No worries – the technicians can help with them too! So, don't wait any longer and book with a reliable technician near you!
Book a professional blinds installation service!
Entrust your bistro blinds' fitting into the skilled hands of the Fantastic handymen!
You can book our handyman services in Melbourne, Sydney, Brisbane and Perth!
Takeaways
Bistro blinds are used in cafés, restaurants, but they can be installed in houses with big backyards;
These types of blinds can be an affordable alternative to permanent structures;
Bistro blinds are made of PVC and ensure protection from wind, rain, insects, and UV radiation;
The installation of these blinds is very straightforward, which means that you can do it on your own;
If you lack the necessary tools or skills, it's always better to contact a professional company to help you with the installation.