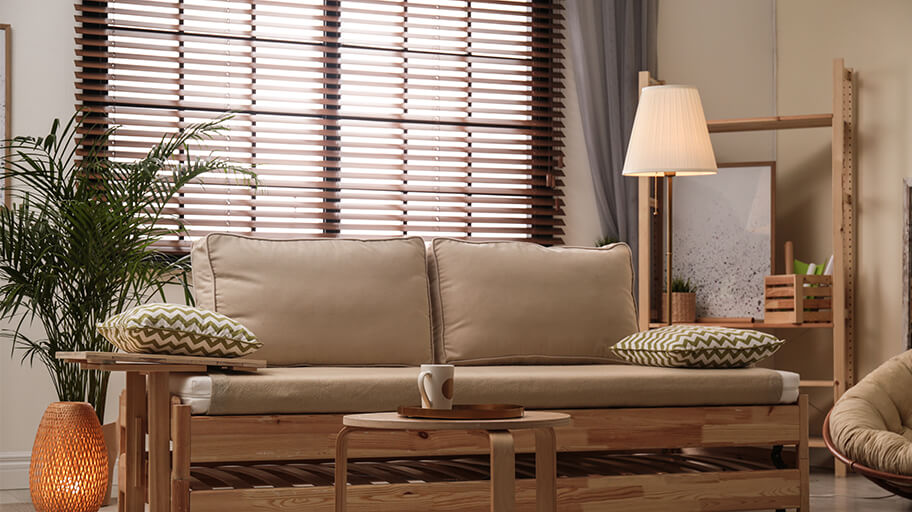 Are you renovating and looking to get new blinds for your home? But you are not sure what kinds of materials and blinds will suit your windows best? Then this article is for you. We will help you find what's best by covering the 5 most popular types of window blinds in Australia and their common variations.
Most people use the words "blinds" and "shades" interchangeably, however, these terms actually refer to two completely separate window treatment options. Let's take a look at what each word means:
On the one hand, blinds are made of individual slats that can be lowered or raised and sometimes even tilted from side to side, which makes it easier to control how much light is entering the room.
Shades, on the other hand, consist of one piece of material, usually cloth, meaning their height can be adjusted, but not their tilt.
---
Different materials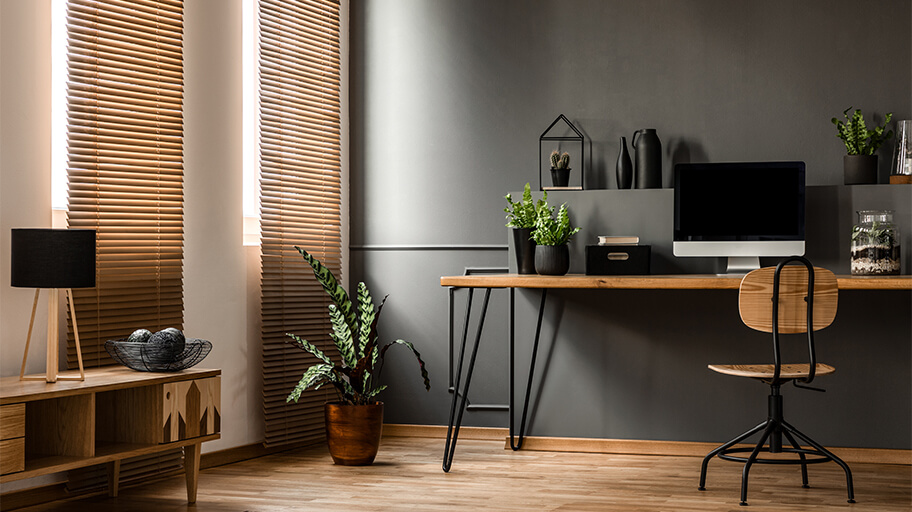 Window treatments come in many styles, but what often determines how a blind or a shade is perceived by the observer is the material that it is made from. Here are some of the most popular materials that you can find on the market today.
Wood – Wood is a common favourite for a reason. With its classic and stylish natural texture and warm colour, wood creates an ambience like no other. However, keep in mind that wooden blinds are not suitable for rooms with a lot of moisture and humidity.
Plastic – Plastic window blinds have a wider variety of styles, which makes them the perfect choice if you want to add a bit of colour, or you're looking to match a more modern interior. Some even resemble wood. If you're looking for the wood aesthetic, but want the practicality of plastic, then you're in the market for faux wood blinds.
Metal – A common choice for many households, metal blinds, including aluminium ones, are a great choice for humid environments, such as bathrooms.
Paper – Paper is an unorthodox material for blinds, but it works beautifully by offering a variety of decorative motifs, pictures and paintings.
Natural fabrics – The most common natural materials used to make shades are cotton, jute and seagrass. Easy-to-clean, durable, but unfortunately prone to discolouration due to the sunlight.
Synthetic fabrics – A popular choice for roller and Roman blinds, synthetic fabrics have the advantage of being more resistant to fading than their natural counterparts.
---
Types of blinds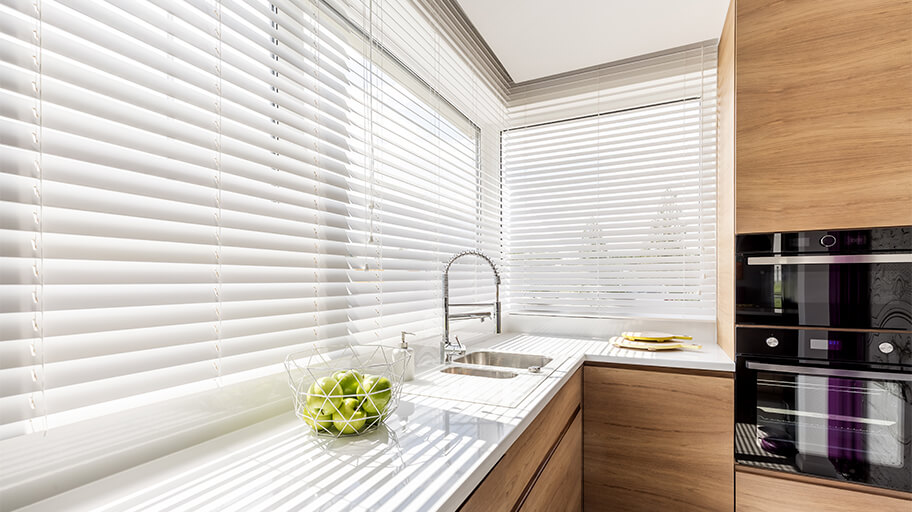 You are wondering what type of blinds to install in your home? That depends on a variety of factors: style, function, budget, the size of the window and the room decor. Each type of window treatment has its own unique set of features that help differentiate it from the others. Let's examine up close the 5 most popular types of window blinds on the market today.
Roller blinds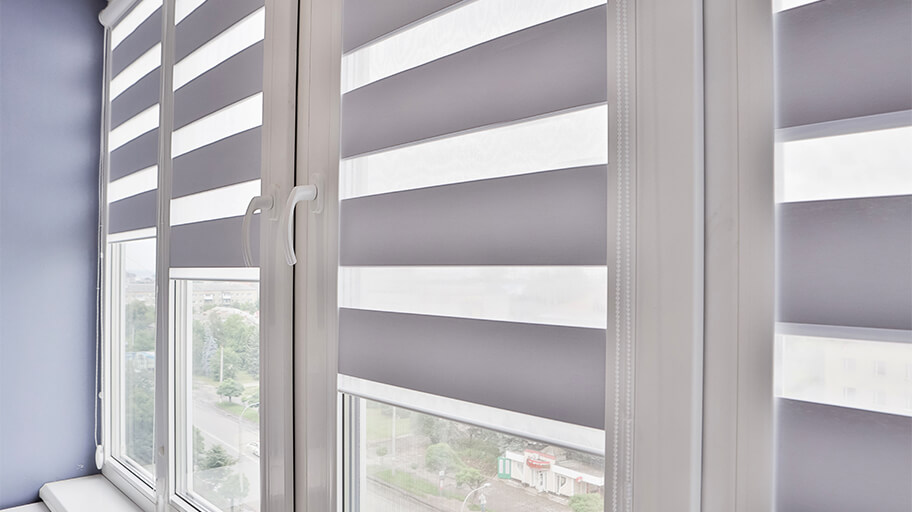 When it comes to window treatments, roller blinds are by far the most popular choice in Australian homes. They come in a variety of natural and synthetic materials to fit your room design. You can choose whether you would like a simple bracket installation or a fancier option with either valances, cornices or fascia. Roller blinds usually come with a cord, but there are cordless options available as well. If you go for one with a cord, make sure that you use a P-clip to secure it to the window frame. This is mandated by the Australian child safety laws because the cord can be a strangulation hazard.
Perhaps the enduring popularity of roller blinds is partially based on their affordability and value for money, however, their stylish and customisable nature should not be underestimated. Many households opt for roller blinds because of the unique combination of value for money, reliable functionality, classy but understated design and easy installation.
Roller blinds might are suitable for almost all types of windows and doors, but they are not the best option for odd-shaped windows and sliding glass doors. It should also be noted that roller blinds do not provide complete light shut out.
Café and bistro blinds are designed to offer crisp and clear views while simultaneously protecting you from the elements. They are made from extruded PVC, which provides strength, durability, water resistance, optical clarity and even UV protection. We are including them in the same category as roller blinds because they are operated in a manner similar to that of indoor roller blinds. As the name suggests, café and bistro blinds are usually installed in establishments in order to shield the guests from the wind, the rain, and the sun. Some homeowners use them for their outdoor entertainment areas. Do you want to introduce bistro blinds to your backyard?
Day and night blinds are a brand new style of blinds, which are a mix between roller blinds and Venetian blinds. They are unique because they feature horizontal panels that have a revolutionary two-layer fabric structure. One of the layers is transparent (day blind) and the other is black (night blind). Day-night blinds insulate your home by trapping the heat in the winter and keep your home cool by reflecting the light and providing shade in the summer.
Venetian blinds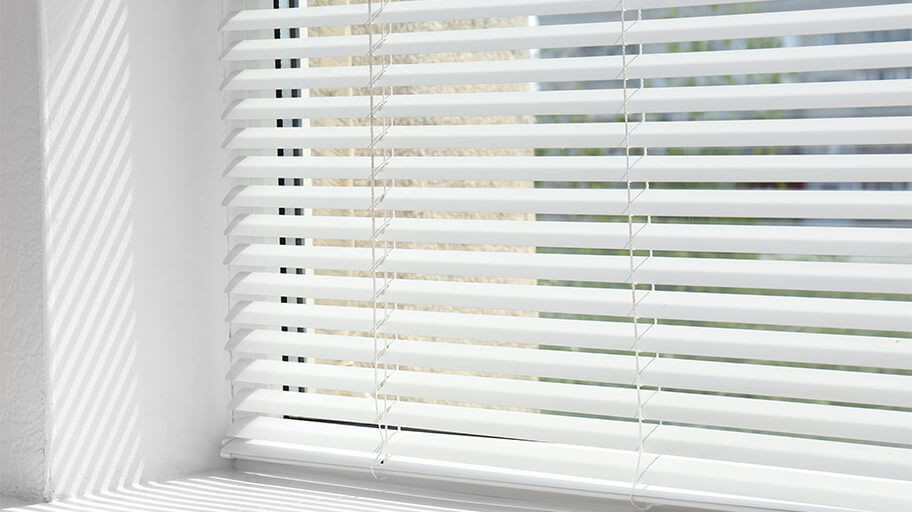 Venetian blinds are another crowd favourite. You can find them in almost all Australian homes, in part due to their extreme practicality and versatility. They can be made of aluminium, wooden or plastic horizontal slats that are suspended on two cords or strips of cloth. The cords keep the slats the same distance apart and allow you to regulate how much light gets in by tilting them. You can also raise or lower them if you want more or less light in your room.
Venetian blinds can be made to fit windows and doors of all sizes, but caution should be taken when installing them on wider windows because some materials might bend under their own weight over time. They also come in a variety of styles to suit any room and taste.
Mini and micro blinds are types of Venetian blinds that differ in how wide their slats are: about 2-3cm for the mini and 1cm for the micro models. These blinds suit especially well small windows, such as those in the bathroom or any other rooms that require them to fit to scale with the window and the rest of the room.
Vertical blinds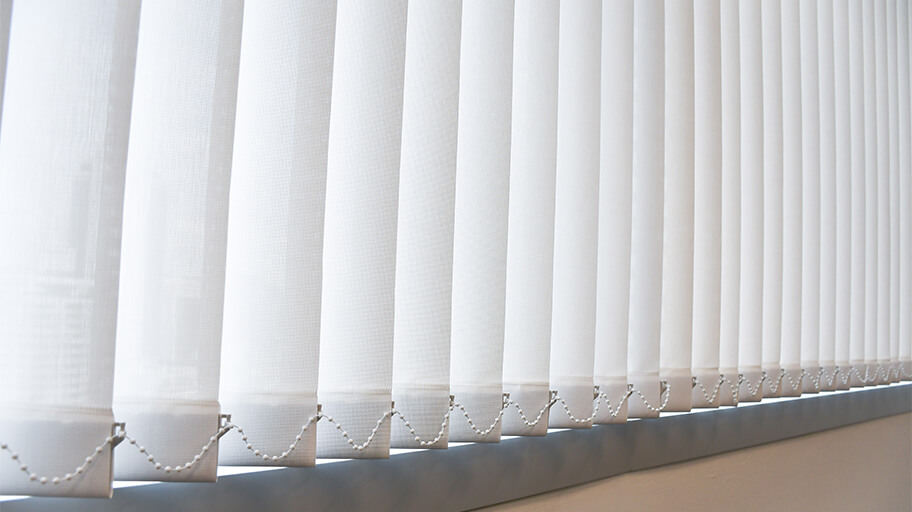 Stylish, easy-to-clean and affordable, vertical blinds are another popular choice, albeit not as ubiquitous as roller and Venetian blinds. They consist of individual slats that are most often made of vinyl, but sometimes fabric as well. Each panel hangs individually, but because they are all placed on a track and connected via a cord you can adjust all of them simultaneously by pulling on the cord.
Because vertical blinds are better suited for large glass doors and windows, they usually provide floor-to-ceiling coverage. They cannot be raised or lowered, but if you want, you can slide them to the side in order to enjoy an unobstructed view.
Panel blinds are similar to vertical blinds in the way that they hang vertically as well, however, they typically have only four much wider fabric panels rather than many thin slats. These panels cannot be tilted or angled, but they slide together to allow light into the room. Most homeowners install them on sliding backdoors.
Roman blinds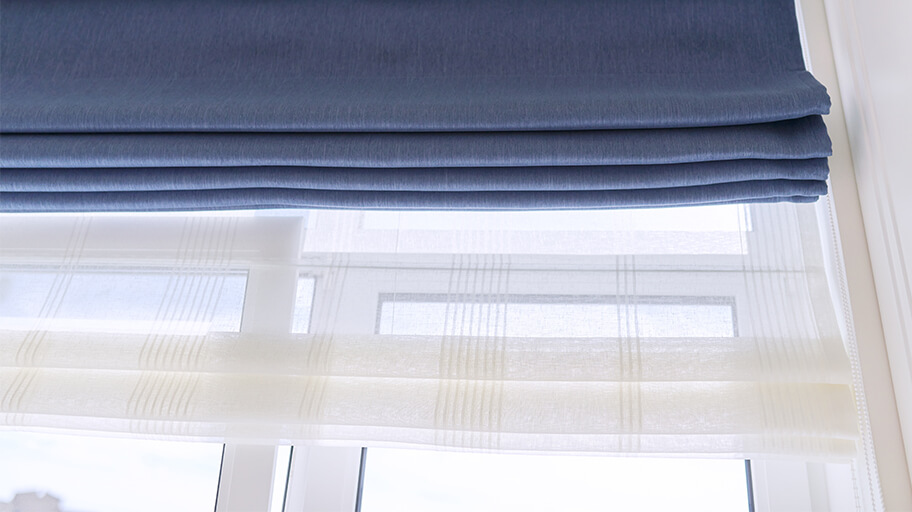 Roman blinds, or more accurately Roman shades, are made of fabric or natural materials such as seagrass. The way they work is by folding into themselves when being raised and flattening out when lowered. Because the panels create quite a large stack of fabric when folded, part of the viewable space of the window is covered by it.
You can get Roman shades in many colours, prints and textures, but more neutral shades like tan, grey, and off-white tend to be the popular choice among homeowners. They are also offered with additional blackout, light-filtering or thermal layers. Overall, Roman blinds are a timeless classic, which suits more traditionally styled homes.
Cellular and pleated shades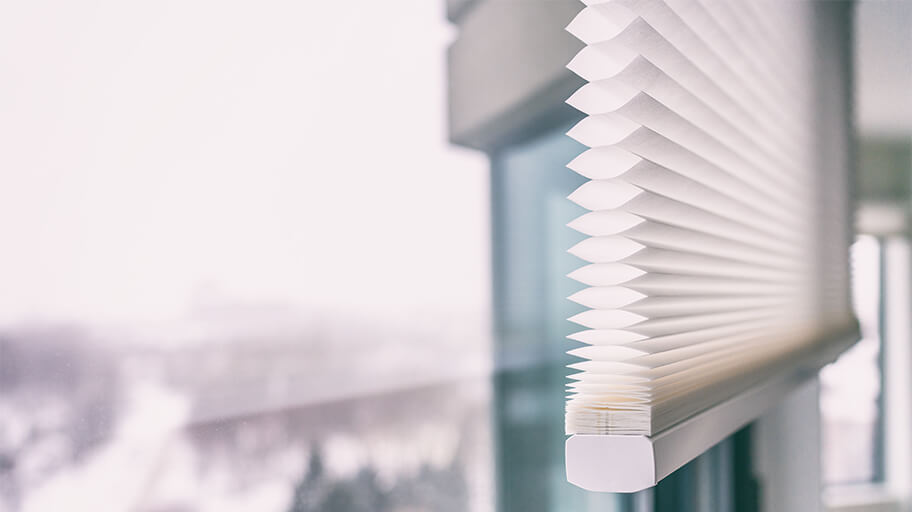 Cellular shades, which are also called honeycomb shades, are made from two different pieces of plastic or paper. The name comes from the fact that cellular shades are open in the middle, which creates a pocket, otherwise known as a cell. Cells provide sound as well as thermal insulation and keep your home cool during the summer and warm during the winter. These shades come in a variety of cell sizes, which are designed to suit the size of the room and window.
While similar in looks to cellular shades, pleated shades differ in that they are made from only one whole piece of material, which forms an accordion-like pattern. This not only allows for the shades to be raised and lowered, but also softens the way the window looks by giving it a warm hue.
Takeaways
The blinds you will find in most Australian homes are:
Roller blinds – minimalistic and inconspicuous
Venetian blinds – classic and versatile
Vertical blinds – chic and affordable
Roman blinds – conservative and classy
Pleated and cellular blinds – unconventional, yet stylish
Ready with your choice? Call the Fantastic Handymen to install your blinds now!
Give your windows the treatment they deserve!
You can book our handyman services in Melbourne, Sydney, Brisbane and Perth!