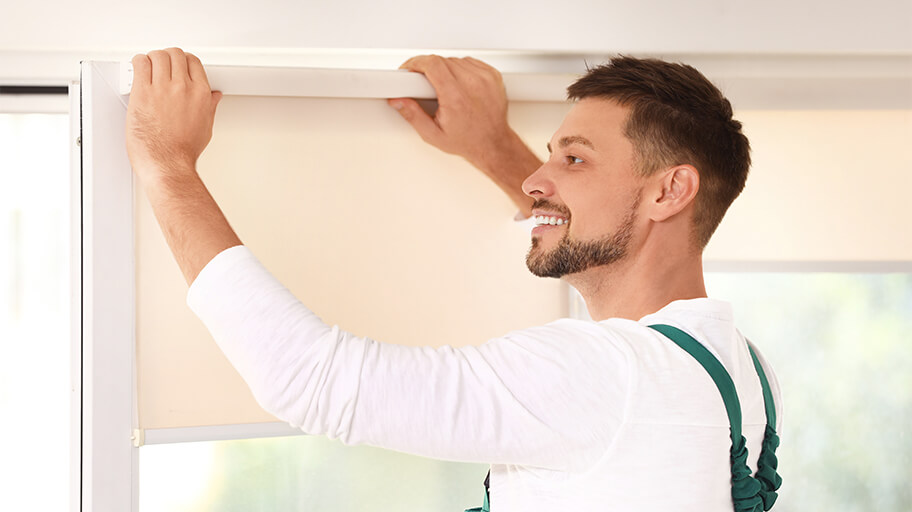 Roller blinds are a timeless classic. Their popularity has persisted ever since their creation in the early 18th century, proving that not only are they here to stay, but that the complete privacy and effective sunblock they provide are among their top winning qualities. If you too are considering roller blinds for your home, but you aren't sure how setting them up works, then read along to find out how to install roller blinds by yourself.
Pros and cons of roller blinds
When it comes to window coverings, there is a wide variety of options on the market, but by far the most popular choice in Australia are the roller blinds. Minimalistic, easy to use and available in a wide variety of colours, patterns and fabrics, roller blinds are a deserved favourite. To help you decide whether roller blinds are the best option for you, we have compiled a list of their main pros and cons.
Pros
Cost-effective: when compared to other window covering alternatives, roller blinds are relatively inexpensive;
Stylish and customisable: depending on the look you are going for, you can choose from a variety of textures, shades and mechanisms;
Provide privacy, insulation and sunblock: opaque roller blinds offer sufficient privacy and on top of that conserve heat in the winter and keep your room cool during the summer. Furthermore, you can regulate how much light enters the room by raising or lowering them;
Smart or wired: Opting for smart or wired roller blinds provides a number of benefits, such as controlling them from the comfort of your couch or bed through remote control, app or even voice command, as well as ensuring a child-safe cordless installation;
Easy to install: Any DIY enthusiast will have no trouble fitting their new roller blinds with the help of a few common tools.
Cons
Not suitable for all types of windows: if you have narrow or irregularly shaped windows, roller blinds may not be the best option for you. They might not be suitable if you have a Victorian or Georgian home, because they fit more contemporary decor styles;
Flap in the breeze when the window is open: Ideally, roll them up when you open the window, in order to avoid unnecessary noise;
Gaps at the sides and between two roller blinds: due to technical limitations, there is no way to avoid these gaps. Roller blinds do not offer complete light shut-out;
Dangling cords: The standard roller blind has a cord, which is a choking hazard for young children and pets. For this reason, all cords need to be secured through the method explained further below.
How to install roller blinds
Roller blinds are almost ridiculously easy to install. In order to do it the right way, you need to make sure that your blind fits your window properly; the steps are as follows: measure, cut, install. If you want to give it a go, then follow our step-by-step guide on how to fit your roller blinds.
What you would need to hang your roller blinds:
The blind itself, along with the brackets, screws and safety tension device
A drill
Drill bit kit – including Phillips head drill bit
A safety mask
A measuring tape
A pencil
Step 1: Decide where and how you want your blind to be installed: inside, outside or above the window frame.
The brackets are universal and work for any blind placement: inside, outside or over the window frame.
Step 2: Determine which side you would like your chain to hang.
Think about the furniture that you have around the window and choose which side would be best for the chain to be. For example, if you have a sofa or an armchair on the right hand side of your window, then having the chain there would make your life easier.Don't worry too much about this step, you can change your plan later during the installation process.
Step 3: Decide which way you want the blind to roll: over or under the roller.
Most people prefer under, because this way the blind provides better coverage. If you have any items protruding from the windows, you can set up the blind to roll over the roller.
Step 4: Measure the size of your window
Using your measuring tape determine the distance between two horizontal points of the window frame. If you are planning to install your roller blinds inside, allow for a 3cm gap on each side to accommodate the blind.
Step 5: Order the blinds
You can do so online or go to a home improvement store. If you are not sure about what size to get, order a larger blind, which you can then cut to size.
Step 6: Determine the position of the brackets
Now that you have your roller blind kit, you are ready to start the real work. Measure out and mark the locations of where the brackets will be placed. It is important that the brackets are at the same height and depth relative to the window frame.
Step 7: Mount the brackets
Pre-drill the screw holes where your pencil dots are, using your cordless drill. Make sure that the holes in the bracket are directly over the two holes you've just drilled. Then, with your Phillips head drill bit attached, secure the bracket with the screws from your roller blind kit. Repeat the process for the other bracket.
Step 8: Install the roller blind
Align the chain end of your blnd with the chain bracket and slot them into place. Do the same for the other end, called the pin end. Your blind should click into place with relative ease. If it doesn't, you might need some help from a professional.
Step 9: Secure the chain
This step is in compliance with Australian child safety laws, which state that if the chain is less than 1.6m from the floor, it needs to be secured using a P clip. This step is necessary to prevent any risk of a child or pet getting caught up in the chain, which can result in strangulation. Get the P clip from your roller blind kit and click it onto the bottom of the chain loop. Then, hold it into position on the window frame and mark with a pencil where the screw will be placed. Make sure the tension on the chain is minimal before you screw the p-clip onto the frame, using your cordless drill and Phillips head drill bit.
Need extra help? Get Fantastic Handyman to install your blinds
You want to install some blinds, but you don't have any spare time to set them up yourself? Or you do but you prefer to spend your precious free time with your family? You started fitting the blinds but you are having trouble? Don't worry, the Fantastic handymen have got you covered! The multi-skilled experts can provide you with reliable blinds installation services anytime. They can not only hang your roller blinds in no time, but they can also help you out with odd jobs around that house that you have been meaning to sort out.
Get your Fantastic roller blind installation now!
Give your home the perfect look!
You can book our handyman services in Melbourne, Sydney, Brisbane and Perth!
Takeaways
Roller blinds are the most popular window covering in Australia;
The main benefits of roller blinds are that they are stylish, yet inexpensive, easy to install and operate;
A potential drawback is that they flap in the breeze when the window is open and don't provide complete light shut-out;
You can easily install your roller blinds in just a few quick steps without any special equipment required;
You can always call a professional to help you out with fitting your blinds.