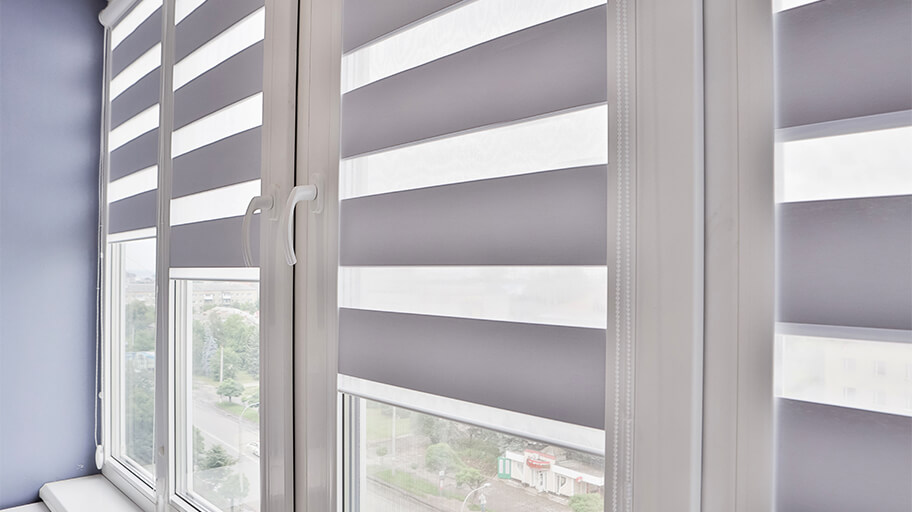 You have heard of the amazing day and night roller blinds, and you have recently decided that they will suit your home perfectly. In recent years, this type of blind has become a much-preferred choice by homeowners in Australia due to its various advantages. They are widely praised for their ability to provide privacy while allowing sunlight to come through. Best of all, the day and night type of window screen enable you to control the amount of light entering your room.
The installation is pretty straightforward, which means that you can handle it on your own if you choose to set up your blinds by yourself. We have prepared a list of necessary tools and materials and a simple step-by-step guide just for you, in addition to some useful information and hacks.
How do day and night roller blinds work
Day and night roller blinds, also widely known as vision blinds or separate blinds, are relatively new, which combines the best characteristics of both ordinary roller and Venetian blinds. The "day and night" name refers to one piece of cloth that slides through a bottom roller bar to form two layers of fabric. They have a transparent part, known as the day blind, and a block colour part, which is the night blind.
Vision blinds can go all the way up or all the way down, so it will come down to your preference for how you want to position them. You can opt to keep them in a middle position to get more sunlight in the room. When the window screens are in an open position, you can see through the panels, and you will get approximately 50% of sunlight. On the other hand, when in a shut position, they ensure full light blockage and your complete privacy.
Day-night blinds also come in a motorised option, which allows you to easily control them from a distance, using a remote. You can control one blind at a time or, if you have more than one motorised vision blind, you can get a remote that will allow you to control all of them at the same time.
Why choose day and night roller blinds
As already mentioned, day and night roller blinds have many advantages, and that is why they have become such a trendy choice for the short time they have been available on the market. To help you understand the benefits of vision blinds and decide whether they are the right choice for you and your home, we have put together their key advantages.
They come in a variety of sizes and colours: Day-to-night blinds are made to blend in perfectly with the existing decor of every room, allowing you to easily choose a design that will suit your home interior.
Good insulators: In winter, they can trap the heat inside the room, and in summer, they can reflect the sunlight while providing shade inside.
Privacy and sunlight at one: The blinds provide privacy throughout both the day and the night while allowing enough sunlight to sweep through.
Suitable for various windows and doors: Since they roll off the front, you can easily fit them into your window, inside the recess, or you can opt to top fix them on the window frame outside the recess.
How to install day and night roller blinds
You are already convinced that these day and night blinds are for you, but you are still not confident enough that you can install them on your own. Don't worry, we are here for you! Check below the list of necessary tools and materials for your DIY project, and then proceed by following your step-by-step guide for installing vision blinds.
However, before you begin, make sure to spend enough time on the preparational work and measuring. These steps are quite important if you want everything else to go smoothly with your installation. Keep in mind also that even though the day and night blinds come in many different sizes, if your window is a non-standard one, you may need to use the cut-to-measure service. Don't stress over it, as many manufacturers offer this option.
Now, let's get down to the real work!
What you will need:
Tape measure
Pencil
Level
Drill
Wall plugs
Impact driver attachment
Screws
Step-by-step guide on how to install day to night roller blinds:
Measure the window.

If you don't already have the measurements of your window, you will need to measure its height and width. Instead of measuring the window itself, measure the recess, depending on whether you prefer inside or outside recess installation.


Note: Not all windows are perfectly sized all the way down, so we recommend you measure three spots for the width and the height. For inside recess, use the smallest width and drop measurement, but for outside recess, you can add a few centimetres to ensure full window coverage.

Mark the position of the holes.

Day-night blinds can be installed inside the window recess or outside the recess. Using a pencil, mark a spot for the two brackets, making sure they are at the same height and/or depth.

Attach the brackets.

Drill holes over the marked spots. Add suitable wall plugs for the surface. Fix the brackets using a drill with an impact driver attachment for firmly attached screws.

Install the blinds.

Snap the blinds in place while they are still rolled up. Do that by simply lifting the headrail and fixing it into the brackets until you hear the 'click' sound.

Plan the safety device.

You will need to secure the cord on the wall so it stays in one place. Mount it at a maximum distance from the headrail but make sure it is still high enough (at least 150 cm from the ground) so that it won't be accessed by children.

Set up the safety cleat.

Drill a hole at the desired spot, then place a wall plug and screw the safety cleat in place.


Pro tip: If your window is very wide, you can add a third bracket in the middle of the frame for additional support of the blinds.
Takeaways
Day and night blinds are a brand new type, which is a mix of roller and Venetian blinds.
They ensure privacy throughout the day while still letting through a good amount of sunlight.
They come in different sizes and designs, made to suit every taste and home.
The installation of vision blinds is easy and is possible to do as a DIY project.
If you don't have the time or the skills to install them by yourself, consider seeking the help of a professional handyman.
Don't have enough time to install day to night blinds?
Trust Fantastic Handyman for professionally put up blinds!
You can book our handyman services in Melbourne, Sydney, Brisbane and Perth!