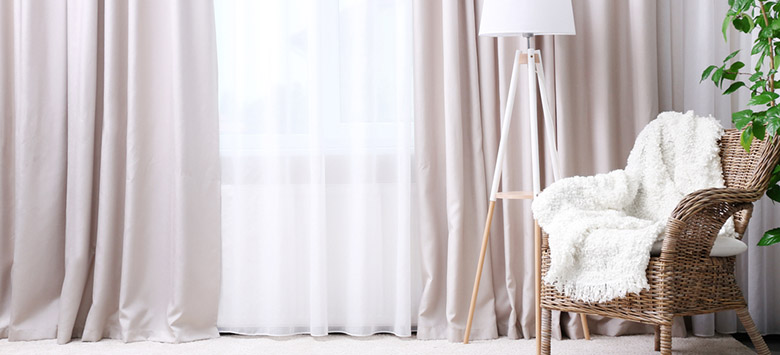 Adding window treatment is an important step for improving the look of your space. Deciding what curtains to add is not an easy choice because there are so many options out there – colours, textures, patterns, styles, types and they all come with different prices.
That's why it's hard to make an informed decision when choosing drapes for your room. You don't want to waste your money to replace the old ones with new ones that don't work for you.
---
How to choose curtains
---
Window treatment is not only a feature of your interior design. When choosing curtains, you need to think about their functionality. When you're curtain shopping buy with privacy, functionality and design in mind.
Choose curtains with privacy in mind
When choosing a window treatment, an important factor to consider is if the curtains preserve your privacy.
You need to choose drapes that protect you from prying eyes during the day and the night. When it's dark outside and the lights are on, passersby can see inside.
Provide yourself and your family with comfort and privacy by choosing heavier fabric curtains for your bedrooms. Sheers and light-coloured curtains are amazing for living rooms. They come in different colours and patterns and provide privacy during the day and allow more daylight to come into the room.
The design matters as well
Drapes need to complement the design of the whole room. Curtains are a simple way to add a soft pattern to your decor. If you want to make your windows the focal point of the room, choose them in contrasting colours to make them pop.
If amplifying the monochromatic look is the goal, choose a colour from the same colour scheme as the rest of the room. Keeping the walls and the drapes the same colour can even give the illusion of a bigger room.
The functionality is of utmost importance
Before rushing to the store and buy the curtains you liked, determine the window exposure and the direction of the light.
If the window faces north, you won't get direct sunlight, and you can choose lighter drapes. If the window is facing east or west, you'll get direct sunlight, depending on the time of the day.
If your bedroom has east-facing windows, choose heavier curtains as the bright sunlight will wake you up every morning. Heavier curtains are also great for keeping a house cooler. They'll also prevent the heat from coming in during the hot summer months by blocking the light. This is a great way to improve your home and save from the electricity bill.
---
Different types of curtains
---
There are various types of curtains to choose from. You can find the ones that work best for you and your home. With the endless patterns and colour options, you can be sure that the interior of your home can look the way you want it to look.
Flat panel curtains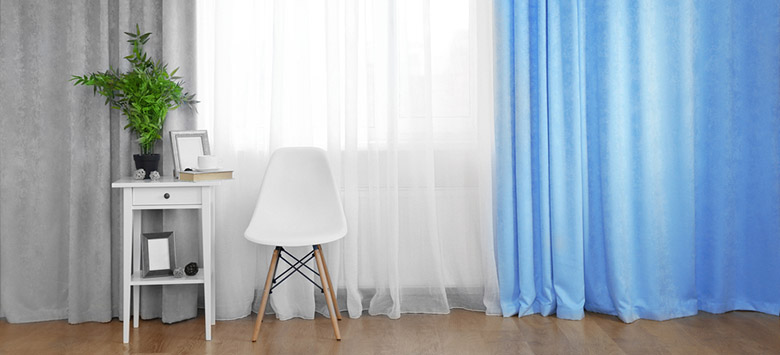 When flat panel curtains are pulled out, they look entirely smooth, without any folds. They're the ideal choice if you want to showcase a beautiful pattern, motive or material. They work great for bedrooms because they're easy to pull out frequently.
To make them look fabulous, you can add trim or tie them up with a beautiful accessory. They are relatively cheap and is suggested to be installed higher, close to the ceiling, so they can completely hide the window when pulled out.
This type of linen can complement any type of decor – elegant or casual.
Pleated panel curtains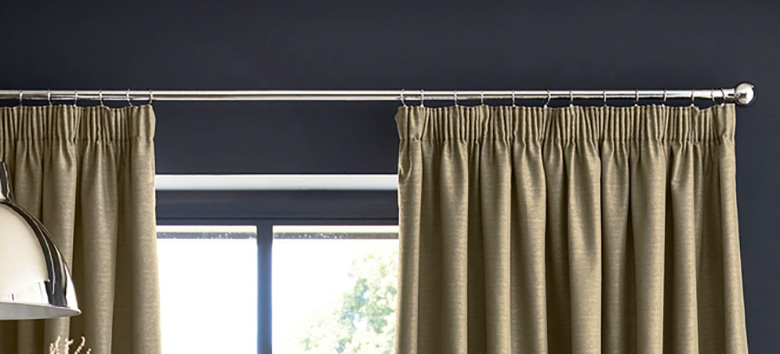 Pleated curtains are a classic type of drape. They work amazingly with traditional and formal home decor. The gentle pleats are formed because the header of the curtains is sewed together.
A variety of styles are available depending on the type of sewing – they can be single, double or triple-pleated, on top of the curtain or slightly down the upper end. Whether classic or personalized, they can be found in a variety of fabrics and colours.
To achieve the desired look you can play around with setting it out. You can even create pleat panels on your own by sewing the top on the back.
Eyelet panels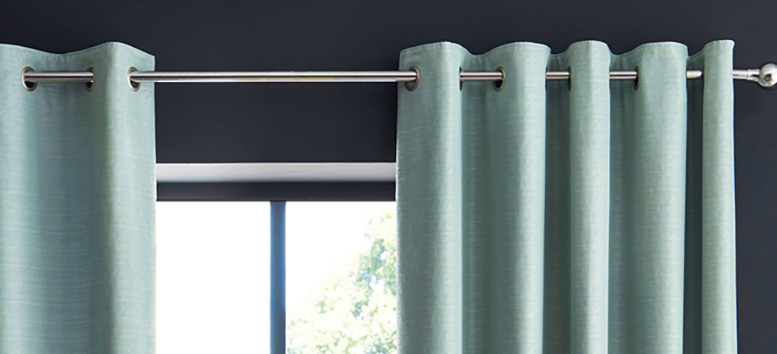 Eyelet curtains hang from rings, also called grommets. The rings are inserted into the panel close to the top edge. With this type of curtain, the hanging rod is exposed so that you can use an attractive metal rod with beautiful features on its ends.
You should also mind the colour of the rings. This type of curtains are easy to open and close and can complement any design. They come in different patterns and colours. Eyelet curtains create large and soft pleats. Fold them in opposite directions when putting them to ensure beautiful, even pleats.
Tab top curtains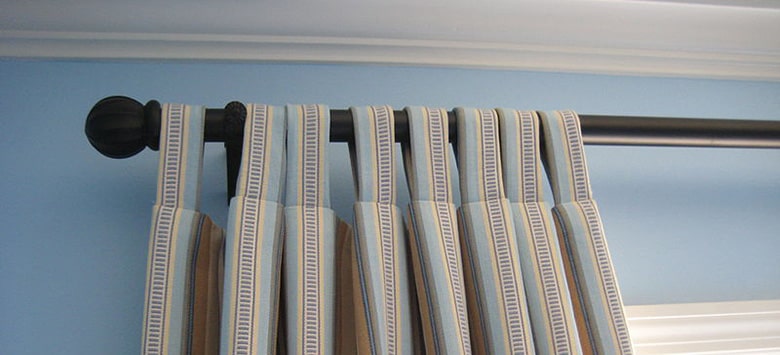 Tab top drapes are among the most used types of curtains. The "tabs" on them are made from the same fabric as the curtains in matching or contrasting colours. This type of drape doesn't require pins or hooks.
They slide through the rod and are easy to attach. The rod is displayed when using tab top drapes, so it can become part of the whole appearance.
You should also maintain the rod regularly. When closed, tab top drapes look flat, which makes them great for exposing patterns and motives. They are excellent for any interior design and are among the cheapest options on the market.
Tab top curtains are available in any colour, fabric and pattern and are easy to make them on your own.
Rod-pocket panels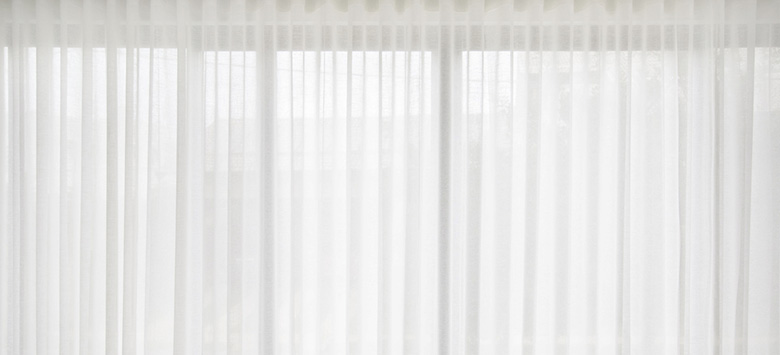 Rod-pocket panels are attached with tabs on the back of the curtain, and the rod is not visible. These drapes are usually made from light fabrics and can be found in every colour and pattern. They are straightforward to hang and simple to open and close.

You can create a more dramatic effect by squeezing more fabric into the rod to create a pleated look. Rod-pocket panels are great for more formal design but can basically go with occasional as well.
---
How to hang curtains
---
As we already pointed out, different types of drapes require different hanging methods. Curtains with rings, loops or tab require a rod and curtains with hooks usually comes with a track.
Attach the curtain rod higher from the windows, close to the ceiling and assure to let them long enough to almost touch the floor. This way, you'll create the illusion of a higher ceiling, making the room look bigger than it is. Choose the fabric based on the look you want to achieve and how much light you want to let in the room.
If the curtains are from heavier materials, make sure that the hooks and the rings can handle their weight.
---
Curtain maintenance tips
---
Various types of fabrics require different maintenance. If you have kids or pets, better stay away from velvet or silk in common rooms because they can get easily stained and require dry cleaning. Dirt and grime are harmful to the fabrics. Most types allow being washed. Steam cleaning is a great solution.
This method will make them cleaner and disinfect and give them a fresh look. Sun is also destructive to curtains. Light coloured drapes reflect the light, but dark coloured absorb the sunlight, which leads to fading. To protect them, you can install shades or blinds.
Compare all the available styles and check some ideas others have used in their interior. Consider functionality, styles, colours before jumping in recreating your favourite Pinterest look.
Leave the curtain hanging to the professionals!
Book a curtain installation service
You can book our handyman services in Melbourne, Sydney, Brisbane and Perth!