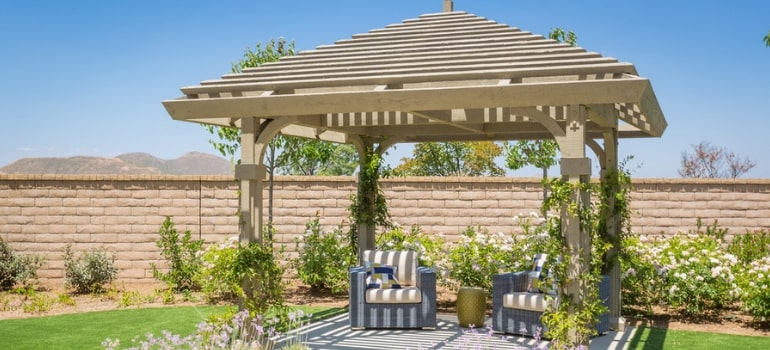 Planning to renovate your backyard with a new pergola? Are you worried about the distance you need to keep from your neighbour's property or about the type of permits you'll need? There are some standards you need to follow in order to stay out of trouble when building new construction on your property.
This article answers some of the basic questions you might have before proceeding with the construction plan and raising a beautiful pergola in your backyard.
---
How close can I build a pergola to a boundary fence?
According to the NSW government development standards, the pergola should be located behind the building line and at least 5m away from the boundary fence and up to 9m in other areas. The pergola shouldn't be bigger than 25m² with an average height of 3m.
You can have the pergola columns closer to the boundary fence as long as the roofline remains 5 metres from the fence. You'll need your neighbour's signed consent that they agree with the building plan.
If you live in a bushfire area, the building regulations are more strict. The construction material should be fire-rated and should not be closer than 5m from a house.
You can check the development standards for carports, shade structures and pergolas on the ABC government website.
Disclaimer: In different areas, the requirements and the regulation will be different, so always contact your local council to check what are the requirements of building a pergola in your hometown.
What if I want to build my pergola closer to the fence?
Ask your local council for exceptions from the regulations. You may be able to tailor the construction in a way that you won't need a permit. If you still want to build the pergola closer to the fence, you'll definitely need a signed contest by your neighbours stating that they don't mind the construction. You'll need to have the area inspected for safety reasons, submit a construction application with your local council, and pay an additional fee.
Do I need a building permit for a pergola?
Before building your pergola or deck, you'll need to make sure that you have building approval from your regional council. Different councils have different regulations when it comes to structure, materials and building standards.
What kinds of building permits are required?
There are two types of permits that you'll need before proceeding with building the pergola:
Planning permit comprises subjects as aesthetics and boundary regulations
Building permit comprises subjects as safety regulations, fire regulations and constructions sizes.
Why you need a building permit?
Building a pergola that is in compliance with the local building regulation may seem like too much hassle, but it's an indispensable investment that can save you a lot of trouble in the future. The role of the permit is to prove to the regulators that your construction meets the safety regulations.
What happens if you build a pergola without a permit?
Building a pergola without a permit may result in faulty construction because of major property or area issues that haven't been taken into consideration. This may result in dangerous hazards. Also, if you don't have a permit, you may need to pay a fine and demolish the construction.
If you decide to sell your house and you have unlawful construction, this may affect the appraisal and the value of your property. Potential buyers may be turned down and question the quality of the non-permitted construction.
Your home insurance may not cover the non-permitted construction. If the insurance agency finds out that there is damage caused by unapproved construction, they won't cover the damage cost.
Create the home of your dreams with ease!
Leave the home renovation to the professionals!
You can book our handyman services in Melbourne, Sydney, Brisbane and Perth!