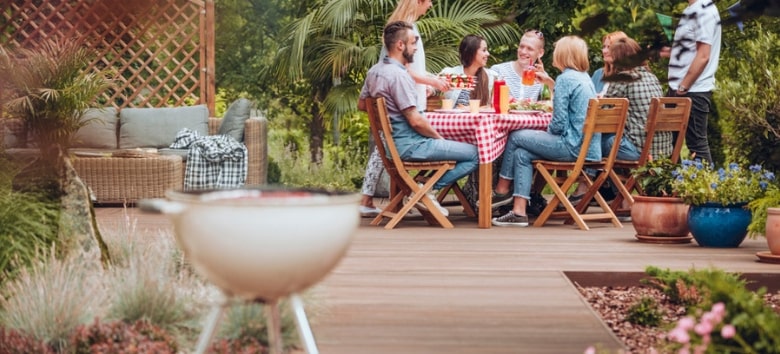 Timber decking is a must feature for the outdoors of Australian homes. If you plan to renovate your home by building a deck, you need to choose the best decking timber to suit your needs.
Read below what to consider before making a choice and the pros and cons of the most popular timber types out there to make sure you'll make the best option suited for our unique Australian climate.
---
Things to consider before choosing decking timber
---
The location of the deck
The most important thing to have in mind to choose the proper timber is your location and climate. The amount of moisture will determine how frequently you need to reseal it to preserve its condition.
Constant sunlight will fade pain faster. If you live close to the ocean, you need to choose timber that can resist salt corrosion.
What's the purpose of your deck
Define what you'll use the deck for. If you're planning to build a pool, you need to choose moisture resistant options. If you build it as a BBQ area, you need to opt for a solid version that can tolerate small imperfections.
Your budget
Timber types may vary in price. Determine how much money you're willing to spend for your deck to narrow the types of timber you can afford. The good news is that there's a variety of materials suitable for every budget.
Constructing a deck is a long-term investment, and that's why it's costly. When you're budgeting for your project, keep in mind that you'd want to build a durable deck that can withstand the test of time.
The style that you're going for
When you're choosing the timber, consider a variety that will not only suit your needs but will be aesthetically pleasing as well.
The amount of maintenance
Different types of timber require different maintenance. Some types are relatively easier to maintain compared to others. Before choosing a material, make sure that you know what regular maintenance it needs to look good.
---
Maintaining timber decking
---
Timber is a natural wooden product. It reacts to the weather conditions and ages with time.
No matter what type of timber you choose for your deck, have in mind that all types of timber turn grey and discoloured due to factors such as ultraviolet light, moisture and water, especially if they aren't protected qualitatively.
Don't leave the decking without protection for too long. Re-coat the timber as many times as you have to preserve the fresh look of your deck.
How to properly seal the timber
Timber needs to be sealed on all sides, including the cut edges, to be protected from damage. Keep in mind that they will still occur naturally over time. Old timber begins to crack, split, swell and even accumulates mould.
For these reasons, timber needs to be protected with high-quality paint and sealant. But doing it once during the installation is not enough. You need to maintain the protection regularly and apply new coats according to the manufacturer's instructions.
Resin bleeding
Timber is predisposed to resin bleeding. Many natural softwoods contain resins. Dark coloured timber exposed to weather conditions increase the absorption of heat and moisture and can trigger the timber to bleed resin. If this happens, it needs to be scraped out, and the surface needs to be sanded and recoated.
This doesn't prevent the timber from bleeding again, so you will have to maintain it regularly.
---
Timber decking alternatives
---
The durability of the deck depends on the timber you choose. Timber decking should last for years if constructed properly.
So, let's take a look at some of the best timber varieties you can choose from in Australia for your deck.
Treated pine
Treated pine is one of the most popular decking alternatives in Australia. It's grown in plantations, which makes it an eco-friendly option.
Treated pine is timber that has been infused with chemicals and pressure-treated to provide long-term resistance from insect and termite infestations.
The timber is very durable and is one of the least expensive decking materials. Treated pine can be painted and stained, so you can paint your deck any colour you want.
Treated pine requires to be oiled or sealed once a year for prolonging its life.
Pros of treated pine deck
Environmentally friendly
Resistant to infestations
Easy installation process
Affordable option
The material is strong and pressure resistant
It can be painted and stained
Cons of treated pine deck
Uneven texture and consistency
It's softwood which makes it receptive to cuts and scratches
Jarrah
Jarrah is a largely sized hardwood that can be found in Western Australia. Jarrah is an expensive timber with beautifully saturated colour, which varies from rich red to dark brown. It is a preferable choice for people aiming to build an aesthetically looking deck.
Jarrah is also fire and weather resistant. It's protected from rotting, insects and termites infestations.
The timber needs regular maintenance. It needs to be sealed and sanded every year to retain the beautiful colours with the years.
Pros of Jarrah
Weather, rot and infestation resistant
Preserve its beautiful colours over the years
Easy to manipulate softwood
Slight resin leach
Cons of Jarrah
Requires regular maintenance
Relatively expensive type of timber
Limited availability
Blackbutt
Blackbutt is timber that can easily be found in Australia and particularly in Queensland and New South Wales. Its high durability is great for the Australian climate.
This type of timber can be seen in decking in residential and commercial properties. The colour of blackbutt is consistent and vary from light brown to saturated blonde yellow. The timber can be stained.
Blackbutt has a consistent texture and vertical lines. It's fire-resistant, and it's the best option for fire predisposed areas.
The timber requires sealing and regular re-sealing; otherwise, it can easily crack and split.
Pros of blackbutt
Highly durable hardwood
Fire resistant
Cons of blackbutt
Doesn't react well to painting over
It may leach resin when wet
Requires regular re-sealing
Spotted gum
Spotted gum can be found in any region in Australia. It's a durable material and has minimum resin leach. The hardwood is environmentally friendly, and it can last for more than 40 years if taking care of.
The colour of spotted gum may vary from light brown to dark chocolate brown. Like blackbutt, spotted gum is fire resistant.
Pros of spotted gum
Eco-friendly timber
Long-lasting
Relatively easy to maintain
Fire resistant
Beautifully looking grain
Cons of spotted gum
Expensive
Requires drilling
Predisposed to moisture and mould
Merbau
Merbau originates from South Asia and is often cut from tropical forests, which isn't environmentally friendly. The hardwood is strong, but at the same time, soft and easy to work with. It can last up to 40 years, and it's durable and relatively cheap.
Its colours vary from light brown to deeper red throughout the years. It tends to bleed resin regularly and can stain. To reduce the leach, you need to pre-oil the timber at least two times before installation and re-oiled it yearly.
Pros of merbau
Durable and easy to work with
It can last more than 40 years
Fire resistance
Beautiful saturated colours
Smooth surface
Cons of merbau
Require regular maintenance
Bleed resin when wet
Not environmentally friendly
Stringybark
The timber can be found mainly in NSW and Victoria. Stringybark comes in a variety of shades of white, red and yellow and has beautiful patterns. The hardwood has a fine texture. It's a durable and relatively cheap decking option.
Pros of stringybark
Durable hardwood
Termite resistant
Affordable timber
Cons of stringybark
Requires pre-drilling
It has gum veins
Ironbark
Ironmark is a heavy timber that can last for more than 50 years. It's highly dense, which makes it difficult to work with. Its colours vary from light grey and light brown to deep red.
Ironbark is fire, rot and termites resistant. It's a great choice for pool decking as it reacts well to moisture.
Pros of ironbark
Long lasting material
Fire and rot resistant
Insects and termites resistant
Cons of ironbark
Difficult to work with
Relatively expensive
Needs to be pre-drilled
Teak
Teak is one of the most expensive types of timber. Despite that, it's one of the best decking woods out there. Teak is also insect and termite-resistant.
This type of timber is one of the hardest and easily lasts for a long time. It's also resistant to scratches and cuts. It's a perfect option for high-traffic areas. It's also moisture resistant which makes it great for pool deckings and saunas. It needs to be oiled every 2-3 years, which makes its maintenance relatively easy.
Pros of teak
Long lasting
Water and moisture resistant
Termite and insects resistant
Rot resistant
Scratch resistant
Easy maintenance
Ready to build your new deck? See how we can help!
Contact Us!