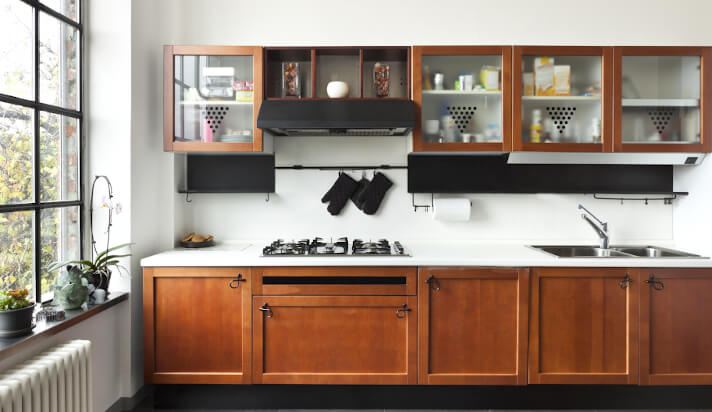 When was the last time you renovated the kitchen? Seems like decades ago… The toughest part of such a project is that it requires a lot of time and finances. Well, not necessarily! You can do a fast kitchen transformation with something as simple and easy as renovating the cabinets.
So here are a few ideas (and inspirational pics) for your next DIY home project that will help you get a brand-new look for less.
The kitchen cabinets affect the entire style of your kitchen. So take a look at their existing layout. If there are flaws in the layout, it's better to fix them first before making any following upgrades.
1. Fresh coat of paint
Are your kitchen cabinets and cupboards a little outdated, but still in good condition? If you are on a tight budget but wish to renovate your cabinets without replacing them, using a splash of colour is just the thing to do. A fresh coat of paint is enough to revive them and make the entire room look great without a lot of effort.
Whether you decide to paint the whole cabinetry inside-out or just renovate the doors, you'll notice the improvement right away. It is important to remember that the kitchen cabinets need to be prepared before applying the new paint. This involves:
Thorough cleaning of the cabinets' surface. All food and other stains need to be removed, especially the greasy ones.
Removal of the elements of the cabinets (doors and handles), which will make the painting easier.
Next follows a sanding process that will help the paint spread and stick for good.
Primer application is also necessary before the coat of paint.
Finally, you can add colour and leave to dry.
Based on the cupboards' material, you can choose between oil-based or water-based types of paint. Acrylic paint is often preferred because it is a non-toxic alternative that dries considerably faster.
2. Cabinet planner
Speaking of the benefits of a fresh coat of paint, we can't miss mentioning chalkboard paint and its perks. Finding and applying this one is not hard at all and this change can prove very practical in the long run. You can add it just to the inner panel of the cabinets or why not even on the inside of the doors. This way you can turn your cabinetry into a big blackboard planner where you can write down things to buy, keep up with appointments or leave notes for your family.
3. Pull-out cabinet installation
It's good to have access to all items in the cabinets. If you currently struggle with limited space, you can add pull out shelves. These will not only change your kitchen cabinets' look but will make your work in the kitchen a lot easier. While most pull-out shelves come with installation instructions, this task may prove to be a bit tricky. Do not hesitate to seek some help to avoid mistakes and complications.
4. Hardware replacement
If you haven't paid much attention to the cabinets' handles by now, then better start looking. It's incredible how much can change by replacing these small elements! And the best part is that this is a simple home improvement hack that will cost you just under $100. Just to make things easier for you, we've listed a few tips on how to choose the right cabinet handles:
Functionality and quality – The look is certainly important but purchasing high-quality hardware will guarantee that the product you get is durable. Cabinet handles may look small and insignificant, but just think about how often we all use them daily.
Position – In general handles and knobs are placed horizontally on pull-out drawers and vertically on cabinet doors. But this doesn't mean that once installed the position of these elements can't change. You will only have to fill the holes left by the old hardware with a substance, usually a wood filler, and let it dry before drilling the new holes.
Style – Handles can make a big difference in the entire design of your kitchen. The only question is, what kind of look are you aiming for? Are you a fan of the classic and old-fashioned cabinet designs? Tracking some vintage hardware will make all the difference. Do you prefer a more contemporary look? Metal handles and clean line models will help you achieve it in no time.
Finish – If you've already chosen the right look for your handles, it's time to determine the finish. For example, the traditional handles are available in a huge variety of finishes. They can be manufactured from stainless steel to pewter, black, and brass, even chrome. Aim for a finish that will match the rest of the elements and appliances in your kitchen.
5. Open shelves
Removing all doors can make your kitchen cabinets look larger. Show some of your favourite things, including jars, cookbooks, cups, mugs, or even stylish dishes with these open cabinetry. Take it even further by painting the inside with contrasting colours that will complement your décor. If you don't want to leave everything exposed, though, just add a beautiful glass panel to your cabinet doors.
6. Plate rack
Another way to have beautiful dishes proudly on display and keep items organised is to install plate racks. This could become the focal point of your entire kitchen. A plate rack comes in different colours, sizes and designs, so you can take advantage of the opportunity to add an intriguing accent to your current kitchen design.
7. Fancy wallpaper
Refreshing your kitchen cabinets with wallpaper is low-cost and easy. There is a big variety of prints to choose from. They will add some colour and can be also easily spotted if the cabinets and cupboards have glass doors. Be bold and experiment as nothing can go wrong with this safe technique to revive your kitchen cabinets. You can renovate just the doors or cover only the shelves, as well.
View this post on Instagram
The kitchen cabinetry plays an important role in every kitchen. They are not just storage areas, but also an essential accent in the whole design of your kitchen. Therefore, you need to consider, plan and renovate them with care and attention to the smallest details. Because often these make all the difference.
Still, some complications may appear in the process, in which case it's good to have a kitchen renovation pro close by for immediate assistance. Feel free to talk to our experts about any kind of home upgrades that you may need help with.
Contact your trustworthy handyman professional!

Hire professional handymen for renovation, odd jobs, plumbing, electrical repairs and more!
You can book our handyman services in Melbourne, Sydney, Brisbane and Perth!
Want some more useful renovation tips? Check out the Sustainability Victoria's website.