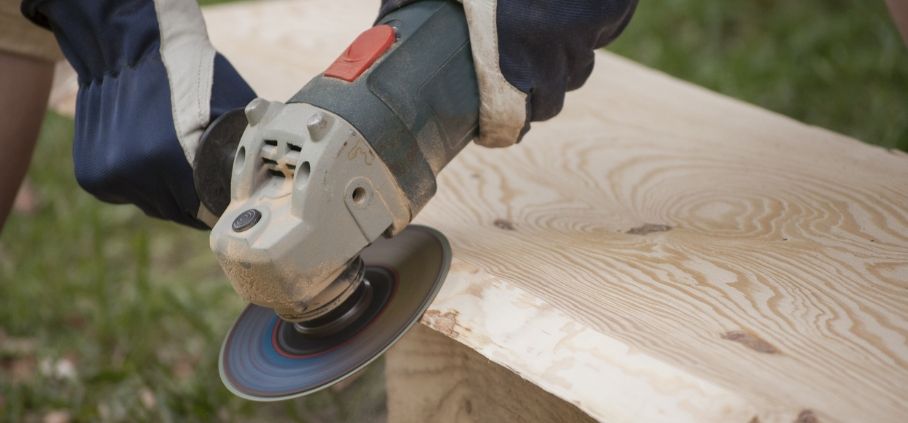 An angle grinder is a power tool that can be used for cutting through different types of materials, including metal and other solid materials such as bricks, aluminium, stone and concrete. This type of hand-held power tool does not have a cutting blade but a grinding wheel.
---
What is an angle grinder
---
An angle grinder is a power tool that can be used for different projects. You can cut metal, aluminium, concrete, bricks, pavers, wood, and other dense materials; you can sand and polish different surfaces to sharpen tools and grind materials.
Angle grinders can be used with different types of discs for different jobs. You can buy grinders in different sizes. The most popular one is with 10-12cm grinders. The power tool can be cordless or with a variety of motor powers for more precise work.
---
Angle grinder safety
---
Angle grinder safety is a must. Angle grinders are electronic tools and are driven by power motors. Their blades can have sharp edges. Using power tools requires taking some precautions because slips and falls may lead to dangerous accidents.
Here are some safety tips for your work environment:
Declutter the workspace Remove all tools, cables and toolboxes from the area, you're going to use the angle grinder. This way, you'll be comfortable moving around without worrying if you'll create a mess. Keep the tools in an easy-to-access place in case you need anything.
Be careful with the power cables Keep them behind you so you won't cut or damage them. Place them in a position where you won't trip in them.
Remove flammable substances Remove gasoline, diesel, oils, paper and other flammable materials to avoid fire hazards. The angle grinder produces sparks while working, and they can ignite these materials.
Remove jewellery, earphones, strings and anything that can get caught between the angle grinders
Have a fire extinguisher in hand Be prepared in case of fire hazards. Having a suitable extinguisher for all types of fires will prevent a lot of accidents.
Never work in a wet area Avoid working during rain or in wet areas. Don't use a tool if it's not completely dry no matter the situation.
Wear protective gear You should always wear personal protective equipment to protect your eyes, ears, lungs and hands. Safety goggles need to be worn to protect your eyes from sparks and particles from different materials. Clothing and goggles must be the right size and fit you correctly. It's recommended to wear earplugs to protect your ears and thick gloves to protect your hands from cuts, sparks and hot, sharp metal edges.
---
How to use an angle grinder
---
The secret to successfully using an angle grinder is choosing the right type of cutting disc. Avoid using damaged or broken discs because they can throw out fragments or shatter during usage, creating a dangerous hazard. There is also a difference between cutting and grinding discs. Cutting discs are thin and sharp and can't be used for grinding.
Make sure that the grinder is attached properly and the bolts are tightened. This may come as strange to you, but did you know that discs have an expiration date too? This is because moisture and rust can damage the disc.
Don't push the disc in the material to force it to cut. This can overload the power tool. Instead, angle the grinder so that sparks are thrown in a different direction from you, and allow the tool to develop maximum speed and press it gently onto the material you're cutting. Keep the disc on 90 degrees all the time and avoid twisting it because it can bend or break.
Cut all the way through the material. Don't stop the disc before you're done because the disc can stick in the material. Let the part you're cutting fall on the ground and stop the tool then. The part will be hot so let it cool down for a few minutes before touching it.
Power tools differ in sizes, types and brands, so always read the manual instruction carefully and get to know how to use the angle grinder.
---
Cutting metal, aluminium and steel with an angle grinder
---
Metal is a hard material. You can use it for all kinds of metal, including bolts, pipes, iron, steel and sheet metal. You'll need to use an abrasive metal-cutting disc. Secure the disc on the grinder and place the metal on a flat surface. Secure it well on the surface with a C-clamp.
Mark a line where you're going to cut with a marker. Put on the protective gear, including the gloves. Start cutting the metal with light pressure. Position the grinder and move slowly through the metal. The cutting disc is thin, so pressing too hard may result in kickbacks.
If you're cutting steel, after you're done, remove the metal-cutting disc and use a flapper disc along the edge of the steel to smooth it out.
---
Cutting concrete, pavers and stone with an angle grinder
---
Concrete is hard and thick and produces a lot of dust and fumes during the cut. To reduce the grime, you can wet the material before the cutting.
Segmented rim discs are specially designed for concrete. They have toothed blades that help extrude the dust and cool down the blade with airflow. Overheating the blade may result in damage and safety hazards. With segmented rim blades, you can also cut bricks, masonry, pavers, granite and limestone.
---
Cutting wood with an angle grinder
---
The angle grinder is a great tool to cut, carve, sand and shape wood. The grinder comes with a lot of discs designed specifically for processing wood. Consider how much wood you want to remove and how fast to define the correct cutting disc for your needs.
There are two main types of blades for cutting wood:
Abrasive flap blades
This blade is created by a lot of small pieces of sanding paper glued to the side of the disc, forming a bumpy surface. This type of grinder is used for sanding wood.
Abrasive carving blades
This blade is formed by sharp, little teeth positioned at the end of the disc. It can be used for shaping and carving wood into furniture and big or small wooden sculptures.
---
Angle grinder sizes
---
The angle grinder size is determined by the size of the disc, not the length of the tool itself. Smaller discs are spinning way faster and leave a clear cut behind.
The most common grinder disc size is with a diameter of 12 cm. It can be used for small jobs as cutting wood or metal with a maximum thickness of 2-3 cm. It's not recommended to use it for cutting stones and concrete.
The 18cm discs can be used for small pieces of wood, thin metal and aluminium, which are 4-5cm thick. The 23 cm discs can cut larger pieces of any material that is 7-8cm thick.
Thinking about your next home renovation project?
Hire professional handymen to lend you a hand
You can book our handyman services in Melbourne, Sydney, Brisbane and Perth!