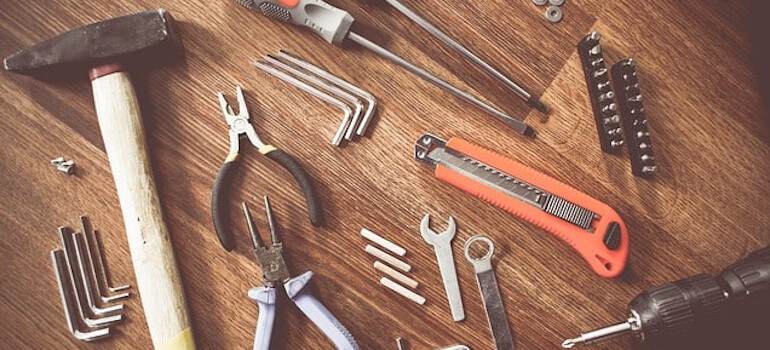 Stuff at home tends to break, so having some basic handy tools to maintain your home properly is a must. Do you know which are the tools you need to get first? Here is the list of the most necessary ones. This will be of great help to you when something has to be fixed ASAP.
1. Toolbox
The first thing you should buy is a toolbox to put all your tools neatly. It's definitely helpful to organize them properly because that will make using them a lot easier. And lastly, having them well-­organised makes you want to put them to work.
2. Hammer
You must invest a lot in a good quality hammer because this is one of the most important tools you should acquire. Anti­-vibration rubber grip and a steel handle, ahh, a piece of art. Note that hammer works miracles for demolition. And let's face it, who doesn't like breaking stuff?
3. Screwdriver set
Screwdrivers fit small spaces and are also one of the essentials. That's why you must get a good set. If you are doing mini DIY in your home late at night, they'd be the perfect tool for any type of job. And if you're of the more practical people, you could go with a set of interchangeable bits for more flexibility.
4. Tape measure
You can't go without one metal case tape measure. It can be slimmer, so you can fit it into your toolbox. Having a tape measure is necessary when bringing new furniture into your home or constructing new ones by yourself.So there you have it, that's number 4 on our list.
5. Adjustable wrench
This is an important part of your toolbox set if you want to fix minor plumbing issues by yourself. For all other issues with the pipes, you can always count on the expert plumbers to assist you. Back to the adjustable wrench now, you'll see for yourself that it's quite convenient, and as the name suggests, it fits all types of nuts and bolts, so don't forget to buy one.
6. Putty knife
If you're after a home renovation project that involves rebuilding walls, you're in need of a putty knife. It's good for scraping off wallpaper and spreading spackle over small holes in the walls.
7. Utility knife
It's very useful because of its used quite a lot. It comes in handy for cutting all kinds of materials and things that would be too difficult for a pair of scissors.
8. Pliers
For any project where you have to cut, grind, or bend wire you'll need pliers. From replacing the old showerhead to straightening bent power­-cord plugs, pliers will definitely come in handy.
9. Power drill
And the power drill will help you with a number of repairs in your home. This is the most expensive instrument, but it's worthwhile for any handyman tasks in the house, so invest wisely.
And remember, an extra set of tools is always helpful, even if the pro handyman technicians are doing something in your house.
Interesting: To view more resources about remodelling you can visit the website of the National Association of Remodeling Industry. You can find many homeowners resources, so enjoy.
Create the home of your dreams with ease!

Hire professional handymen for renovation, odd jobs, plumbing, electrical repairs and more!
You can book our handyman services in Melbourne, Sydney, Brisbane and Perth!