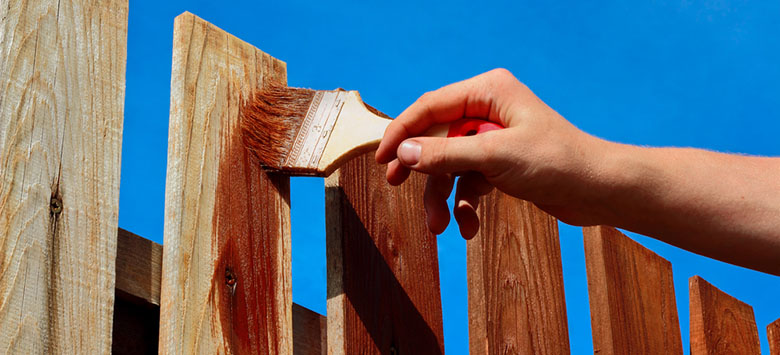 Giving your fence a fresh lick of paint can change the whole look of your house. And as every DIY, there are things that you should know, and things that you can do wrong.
When you decide on painting your fence, you have two options – either grab a paintbrush and do it the old school way, or you can use a sprayer and make it much easier (and faster) for yourself.
However, the tools for the job, won't paint the fence by themselves. Different materials require different knowledge and painting techniques, so we show you those below.
When you should paint your wooden fence
It's important to choose the proper weather and season when painting your wooden fence. Ideally, you'd want to paint wood in the Summer season, as rain and moisture damage the wood and the paint on the fence.
Paint your fence early in the morning, before the sun heats the wood. It would be best to paint at a normal temperature because when the wood and the weather are too hot, the paint solvent will evaporate more quickly. This will cause defects in the paint of your fence, and cracks will form.
Choose a day when the weather is fairly calm because windy weather isn't good for your paint job. The wind can cause dirt to stick to the fence while the paint is still fresh.
How to prepare before using a paint sprayer on your fence
Preparation is one of the most important steps in every handy work. The way to prepare beforehand will determine how the process of renovating your fence will go. While the paintbrush gives you precision when you work, painting with a sprayer requires you to mask anything nearby, or you don't want to paint.
Protect any surrounding vegetation, and your driveway by placing cloths on the ground, and cover them. A drop cloth should be placed under the fence in order to catch any paint drips.
If the fence has been painted before, you will have to strip off the old paint in order the paint to cover the area thoroughly. We also recommend making any needed repairs to your fence before you begin painting.
Fence spray painting technique
If you've never used a spray painter before, you should practise before doing it on your fence. It is tricky at first, and you will have to learn how to move your hand, how far you should keep the sprayer from the fence, and other little details. Here are the main rules when painting with a sprayer:
Keep the sprayer around 15-20 cm from the fence.
When painting rails, make sure the nozzle is set toa vertical pattern. Move the gun back and forth.
The same technique is used for painting the panels, just rotate the nozzle 90 degrees. That way a crisscross pattern is achieved resulting in no streaks.
Of course, painting with a sprayer isn't an easy job. If you feel you can't do it, then you can call professionals to paint your fence.
How often you should repaint your fence
There isn't a set window of time that you should repaint your fence. It all comes down to the area you live in, the quality of paint you use, the quality of the paint job, and even the type of wood that your fence is made of.
The weather in your region is also a big factor when it comes to dealing with paint jobs. If this is the first time for you, then there is no way you can determine how long the current paint job will last. Most paints will fade, get dirty, or chip after two or three years.
How to paint a metal fence
Metal paints are oil-based. That's why they are resistant to water, changes in temperature, and strong sunlight. It would be best if you used special paint for your metal fence, which will last longer. You should either consult with the salesperson in the hardware store or trust professionals with the type of paint used.
Create the home of your dreams with ease!

Hire professional handymen for renovation, odd jobs, plumbing, electrical repairs and more!
You can book our handyman services in Melbourne, Sydney, Brisbane and Perth!