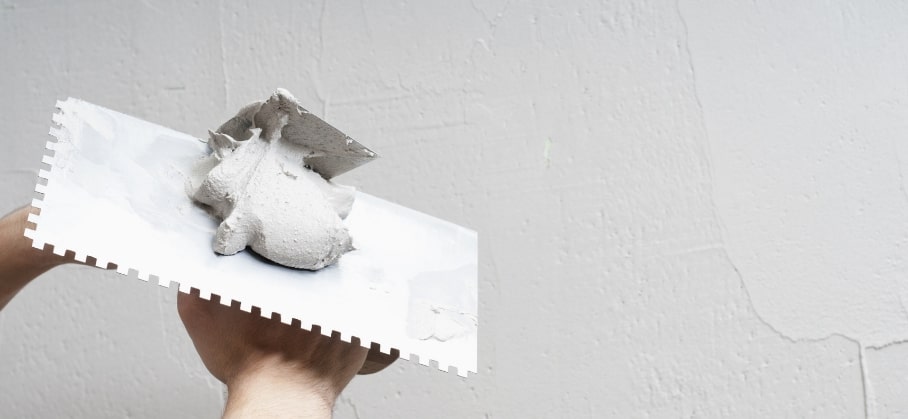 Choosing between plaster and drywall is a decision that every homeowner should make before starting an indoor renovation project. Both materials have strengths and weaknesses and come in different price ranges. Before making a decision, make sure to understand what is the difference between the two materials and consider their pros and cons.
---
What is the difference between drywall and plaster
---
Plaster
Plastering is one of the oldest building techniques. Plaster is made of lime or gypsum. It's a white material which hardens when drying and it's mostly used for covering ceilings and walls. Plaster is used as a protective cover over stone and brick masonry, but it can also be used for creating finish looks.
Plaster is a powdered mixture that you'll need to mix with water to create a paste before applying on the walls. You'll need to apply two coats of plaster to ensure full coverage. Stucco is a type of cement plaster that can be used on exterior walls. It's made of sand, water, binding material (lime or gypsum) and cement.
Plaster pros:
Plaster is a hard material that creates a durable surface that can be painted over
Plaster can last a long time
The surface does not crack
Mixes up easily with water and it spreads evenly
Plaster is mould resistant
Plaster can be cleaned
Thicker plaster is a great sound proofer
Plaster cons:
Plaster is porous and absorbs moisture easily. That means that painting over it can be hard to do. You'll definitely need more than two coats of paint to achieve the desired look.
Plaster cracks easily
Repairing plaster is expensive and hard. In most cases, you'll need to remove a large portion of the material from the wall.
It's hard to hang frames and shelving on plaster
The material is not suitable for exterior projects
Generally more expensive to install than drywall
Drywall
Drywall, also known as plasterboard is made of gypsum mixed with water and spread between two large sheets of paper. Drywall is used for the construction of interior walls and ceilings. Plasterboard is installed by lifting the pieces and attaching them to wall studs. Drywall is available in two thicknesses – 9.5mm and 12.5mm. The front side of the drywall is usually white, so you can paint it over. Drywall can be noise and humidity resistant.
Drywall pros:
Drywall can be painted over
It doesn't require sanding
Drywall is more stable than plaster
The surface is easier to repair
Drywall is fire-resistant
Provide sound and temperature insulation
Variety of sizes and types to choose from
Less expensive to install
You can hang shelving and frames on drywall
Drywall cons:
Installation process is more complicated. You'll need to measure the space and cut enough pieces to cover the walls and install them on the wall studs.
Creates a mess during the installation
Drywall weights, so you'll need a partner to help you with the installation
Drywall is not as flexible as plaster so it can be difficult to bend it to achieve the desired result.
Lower durability than plaster
If not installed correctly, the joints between the sheets are visible
Drywall is not water and moisture resistant, so it can't be installed in bathrooms
---
What's veneer plaster?
---
Veneer plaster offers the look and durability of the plaster and the strength of drywall. Plaster veneer is a technique for surfacing interior walls. The base is a gypsum board with moisture and adhering qualities (similar to drywall). After installing the board, one or two layers of plaster are applied.
Veneer plaster pros:
Veneer plaster is moisture resistant. It can be used even in bathrooms and laundry rooms.
Veneer plaster is strong and durable
There is no sanding required to achieve the desired finished look
You can hang heavy objects on
Veneer plaster can last for a long time
Veneer plaster cons:
Plaster veneer is way more expensive than plaster or drywall, simply because you'll need more materials for the installation process.
Complicated installation process
It's hard to find professionals competent to do the job
Longer installation process
Each coat of plaster should cure at least 24 hours before you can paint over it
---
Cost differences between plaster and drywall
---
Drywall is way cheaper than plaster, including materials, labour and installation process. That's one of the reasons why drywall is the most preferred option. Drywall is perfect for the common areas in your home.
Veneer plaster is the most effective wall finish, but it comes at a much higher cost. You'll need more materials, and at least two coats of plaster as a finish, which means that the cost for finishing one room can be almost the same as if you use drywall on three of your rooms.
Knowing the advantages and the disadvantages of plaster and drywall will help you make an informed decision before starting with your renovation project.
Need help with home renovation?
Hire reliable local handymen
You can book our handyman services in Melbourne, Sydney, Brisbane and Perth!