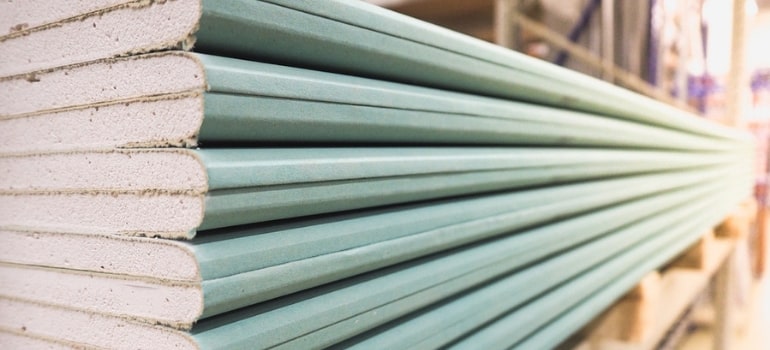 Plasterboard, also known as drywall, is a panel made of an inner layer of gypsum and spread between facer and backer paper. Plasterboard is used for the construction of interior walls and ceilings. It can be modified to become fire resistant, humidity resistant, noise resistant. That's why plastering is a preferred choice for interior walls – it's an easy to install, affordable option.
---
Standard plasterboard sheet sizes
---
The standard plasterboard sheet size is 120 cm in width and from 180 to 360 cm in height. The sizes are designed to support the standard stud spacing, which is 60 cm. Plasterboard can be found in different widths depending on the manufacturer.
---
How thick is plasterboard?
---
There are two standard thicknesses of plasterboard – 9.5 mm and 12.5 mm.
The plasterboard sizes for ceilings are 9.5mm or 10mm. People assume that they must use thicker plaster, but that is actually not true. Thicker plasterboard will stick harder to the ceiling and will be difficult to seal joints if needed.
Plasterboard sizes for walls are 12.5mm or 13mm. It's a great noise insulator and can reduce disturbance from other activities. You can use it in bedrooms, nurseries, home offices etc. If you're replacing old boards that have been previously 9.5cm, you should use the same size plasterboard. Deciding to use thicker plasterboard may cause fitting problems.
Commercial projects typically use a 13cm plasterboard in areas where noise transfer is a concern, such as offices, meeting rooms, hotels, etc.
---
Different types of plasterboard
---
Most plasterboard types come with a white paper finish on one side and a grey, thicker paper on the other. The side with white paper goes in front, and you can skim or paint it.
There are different types of plasterboard, and each one has a different characteristic and is suitable for different situations.
Wall plasterboard
Wallboard is the most common type of plasterboard. It's made of hardened gypsum layered between two layers of paper. It's suitable for application in areas with normal sound levels.
Insulating plasterboard
This plasterboard is similar to common wallboard. It's made of gypsum as well, but it has insulating foam on its front side. This makes it a great thermal insulator.
Sound resistant plasterboard
Sound resistant plasterboard has a higher density core providing a higher level of sound insulation. It works great on thin ceilings and walls. It's the number one choice in hotels, apartment buildings and commercial offices.
Fireboard
Fireboard is fire resistant plasterboard. It has glass fibre in its core. It's commonly used for building walls between houses and garages. It's able to resist fire in most domestic situations. The fire board is usually pink and can be painted and plastered.
Water resistant plasterboard
Water-resistant plasterboard can be used in high humidity and wet areas such as kitchens, bathrooms, laundry rooms. It has water repellent additives in its core and is great for a tile base. However, you need to plaster it before usage. All types of plasterboard are made from gypsum and can absorb water quickly, which will lead to serious damages.
---
Takeaways
---
Plasterboard is an important part of the interior construction of most buildings. Choosing a different type of plasterboard depends on the room you're planning to use it in and the result you're trying to achieve.
The most common plasterboard thickness is 9.5mm and 12.5mm. For ceilings is used 9.5mm thick plasterboard and for walls – 12.5mm.
Need help with your plasterboard installation or repair?
Get a personalised service based on your budget and requirements
You can book our handyman services in Melbourne, Sydney, Brisbane and Perth!