Having a beautiful driveway can change the way your home looks, and even increase the value of your property. If you are looking for ways to renovate your driveway, you have a handful of things to consider. Price, type of renovation and the materials you are going to use to fix up your driveway.
While driveway renovations are best done during the summer months, here in Australia we have a bigger time window. Of course, you'd have to request a quote from the contractor and if the weather is suitable for a driveway renovation.
Driveway Renovation and What You Need to Know
If renovating your driveway is on your to-do list, then you definitely need to plan a lot of things. Research is mandatory, and it's always best if you are prepared for the costs that come with fixing up the front driveway of your house.
The easiest and cheapest way to make your driveway look better is to resurface it. Sometimes that means to completely change the build material of the driveway, but in most cases, it won't require more than a day or two work.
Why You Should Resurface Your Driveway
While driveways aren't the busiest routes, they still need basic maintenance every three to five years. Weather, tires and other factors may be the reason for the wear, you still have to do it, as it's less costly than building a new one every 10 years.
Because driveways are supposed to last you a lifetime, we would suggest that you take good care of yours. Because of the costly nature of driveways here are the most often used materials for driveways and their cost:
---
Gravel Surface for Your Driveway
Gravel is the type of material that can suit any type of house. It's versatile, and quite cheap for initial installation. Depending on the size of your driveway, gravel can be very cost-effective, however, keep in mind that for bigger driveways it may cost quite a bit to maintain it.
It tends to work best on smaller areas. The costs are small too. Especially if you are planning for a long-term use.
---
Asphalt
The good looks and darker colour of asphalt are quite often very attractive for homeowners. While they look great and will fit any type of architecture, asphalt is quite expensive for installation and later for maintenance. Every three to five years you will have to reseal it.
However, it's better for places with snowfall because asphalt retains heat very well. This means that you may save your shoveling in the winter.
---
Concrete
Probably the best and most popular choice is concrete. Settling on this type of material means that you will have a durable, good-looking driveway for decades.
It does require a bit of maintenance, but it's not very costly. The best thing about concrete is that it can be laid in various forms without limitations. It also looks good with almost all types of buildings.
---
Pavers
If you are looking to increase the resale value of your home, or you just want that extra luxury in your home, then pavers might be your choice.
They look amazing on all types of homes and are also pretty durable. It is more expensive for installation, but it has almost no extra cost for maintenance later. Also, when opting for pavers as your choice of material it might last you a lifetime!
---
Crushed Shell
Deciding on crushed shell for the type of material to be laid on your driveway means that you will get a unique look. It's great if you want your house to stand out from the rest in your neighbourhood, but it's also a great way to introduce colour to the house.
You can choose from clam, oyster and scallop to present that eco-friendly look to your home.
---
Bricks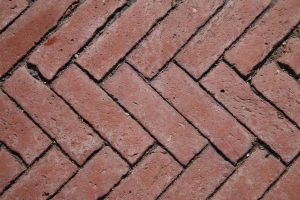 Bricks may be the best-looking type of material for a driveway. That's in our humble opinion. However, if you decide to opt-out for bricks you should be ready to pay the price. Because of the hard installation, bricklaying is expensive.
If you are ready to spend a bit of cash on your driveway, you can introduce beautiful designs and patterns to the front of your home. Brick driveways also look amazing when coupled with any type of greenery like grass and bushes.
Brick driveways are also amazing for the resale value of your home, and they do last a lifetime with little to no maintenance whatsoever.
---
Is It Better to Pave or Cement a Driveway?
Before you choose the right material for you, there are some questions that you might ask yourself.
Well, a big dilemma seems to be if it's better to pave or to cement the driveway. That is definitely a hard question to answer because every household is different.
As you might have noticed, paved driveways are better for increasing the value of a house. If you are treating your house as a property you want to invest in, and eventually get a return on the amount that you've spent, then definitely go with pavers or bricks.
If you are looking for a sleeker modern design, then you should consider asphalt and concrete. They tend to hold well against weather and time itself, with the first one being a bit more expensive and demanding more care.
If you want a unique look then take a look at crushed shells. And if you need your driveway to be done fast, then gravel is the perfect option for you.
How Much a Driveway Renovation Costs?
This is a question that excites everyone who is planning this type of construction. Typically, the starting price for driveway renovation is around AUD$3. However, it can double pretty easily and even go north of AUD$10 per square metre depending on what type of work you want. For the renovation of the whole driveway prices vary, but for a typical one, it starts at around AUD$1600. It's always best to request a quote and calculate all the costs including material, transportation, workforce and time. Also, give yourself a bit of room for extra unexpected expenses.
---