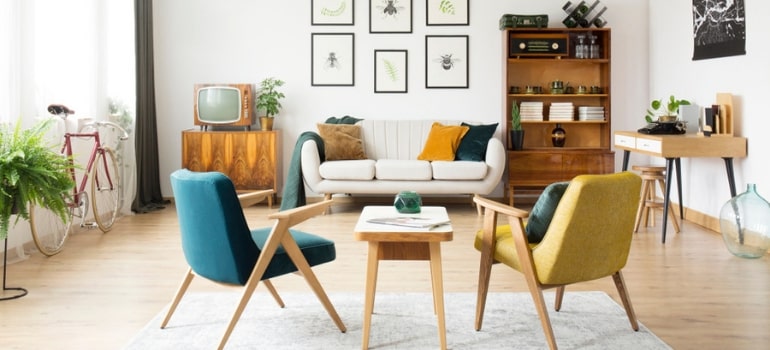 The 70s was the time for rock 'n' roll, disco parties and the beginning of the digital age. The clothes and homes were colourful and bright. From neon colours, patterns, wallpapers to house plants and shaggy rugs. 70s was Moroccan, free-spirited and bold. The retro vibes are back and stronger than ever.
Here is how to incorporate 70s decor in your home.
Bright colours and textures
During the 70s they were two main aspects when it comes to colours. The first one is a pallet of monochromatic natural colours and the other one is bold, colourful and bright. These days similar colours and patterns made a comeback in the minimal Scandinavian inspired decor.
Decorated interior with bold colours and proportions is returning and are easy to achieve. The rule is only one and is to not be scared to mix contrasting colours. Paint your walls in deep colours and add bright furniture and art decor. Don't be afraid to layer various colours on the walls. Add paintings, posters, mirrors and wall hangings.
View this post on Instagram
Orange
Orange is a bold colour used in the mid-century modern decor until the 70s. The warm colour is nostalgic and will always remain one of the iconic colours in vintage decor. Orange can be used in every room and style, it's an exciting earthy colour that will bring wellness and cosiness to your home. You can incorporate orange in the decor, in rugs, curtains, or even make a statement with accent furniture.
Since orange is a strong colour if you decide to incorporate it into your walls, make sure to paint or wallpaper only one of the walls. Doing it will create a focal point in the room without making the room feel crowded and tasteless.
View this post on Instagram
Purple
Purple is making a comeback! Purple is a vibrant colour associated with luxury and glam in the 70's interior design. It has a positive effect on our psychical state of mind so incorporating purple in the home decor is becoming more popular.
Paint the walls purple or place a patterned wallpaper. You can incorporate purple in the rugs, furniture and decor pieces. The more, the better!
View this post on Instagram
Wallpapers
Floral and colourful wallpapers could have been found in every home in the 70s and now, they are coming back more modern than ever! They're easier than ever to apply and remove and there are a variety of designs available making it possible for every type of house to embrace this retro trend without demonstrating bad taste.
Colourful wallpapers are an amazing starting point for the whole colour pallet of the room. The key to using them is to look for hand-drawn or printed abstract and floral designs in pastel or bold colours.
View this post on Instagram
Macramé Wall Hangers
Macramé is a form of textile created using knotting techniques. One of the earliest documented uses of macramé as decoration appeared in 13th-century Arabia. It regained popularity during the 70s as wall hangings, clothing, and even bedspreads.
Knitted wall decor has become more and more popular during the last couple of years. Macramé wall hangings will add texture and personality to your walls. Woven hanging can be found in a variety of colours, textures and sizes. You can add small decorative objects to it or even dye it a different colour on your own.
View this post on Instagram
Macramé plant hangers
Nothing says the 70s as loud as macramé hangers. Display your favourite plants or pots in knotted plant hangers from the ceilings, windows or porches. You can use white or grey hangers or neon-bright colours to make them pop up. Just make sure that if the plants are real they have good drainage to make them live longer.
You can also use plant hangers in the kitchen for your utensils or in the bathroom for your toiletries or to store your stationery next to your desk.
View this post on Instagram
Rattan furniture
Another part of the 70s style that is coming back is rattan furniture. Peacock chairs, hanging egg chairs, rattan benches and even baskets in natural hues are making a comeback. A piece of wicker furniture will make a statement in your living room or porch. They offer a relaxed and cosy look to every home.
View this post on Instagram
View this post on Instagram
Vintage furniture
A piece of furniture can be called "vintage" if it's between 30-100 years old and is usually clearly defined in a particular style. Using vintage furniture in your home is the easiest way to personalize it. The best part is that vintage furniture is less expensive and unique pieces can be found in thrift stores for a decent price.
The retro look achieved with vintage furniture will make the house feel comfortable and stylish at the same time. The retro-style creates a sense of nostalgia since it represents the styles that were once in fashion while we or our parents were younger. If you want to create a 70s look without making it feel too vintage you must opt for a look that mixes both old and new. Make sure you have only one vintage piece in a room.
View this post on Instagram
Stripes
Using stripes in your interior is the best way to add texture to any room of your house. You don't have to make them symmetric – use angular, horizontal or vertical, making a bold statement with different forms. Incorporate stripes in curtains, rugs, cushions and pillows.
View this post on Instagram
Shaggy rugs
Shag rugs appear first in the home decor in the 60s and are a must in every home during the 70s as well. These kinds of rugs are making a big comeback and are used in different styles in interior design. Shaggy rugs are soft and make the room cosy and welcoming. They also add visual depth and texture to the room.
View this post on Instagram
Or visit Seeya Collection's website!
Indoor plants
Indoor plants have always been a part of the interior design in almost every home. But they were a huge deal in the 70s. Usually seen tucked in macrame hangers or in big flower stands. There was no such thing as too many plants and you could have seen an indoor garden in their homes. Nowadays, aren't very different. From large potted plants in the corner to small succulents on the desk, green plants are making a comeback and can be seen more often in different homes and styles.
It's proven that even having a small plant can boost your mood and productivity, and will also freshen up the air. So do you need more reasons to add them to your home?
Moroccan style
The exotic home decor is inspired by the Arab country Morocco and its rich architecture and culture. Moroccan decor was a popular trend during the 70s. The style is elegant and bright. It's all about texture, patterns, rugs, and metal in jewel and pastel tones.
Place a puffy bed cover or blanket on your bed or couch and it will instantly transform the space. Pile up bright, fluffy pillows in pastel colours to add a unique sparkle to the space. Add a patterned woven rug and finish with metal art decor.
View this post on Instagram